Baked Pasta Cones filled with Ricotta, Mozzarella and Basil with a Tomato Sauce
Serves: 6
Cost Cutting Eco Friendly Freezes Well
This cone-shaped pasta is perfect filled and baked – an unusual and pretty alternative to cannelloni. Bertolli with Butter's olive oil goodness is ideal for making the soffritto for the tomato sauce as well as perfect to dot all over the top to keep the dish moist and shiny during cooking. The simple but delicious and filling dish combines perfectly all 3 pasta flavours. To reinvigorate the mid-week staple, Bertolli with Butter has partnered with Italian chef Gennaro Contaldo and artisan pasta makers Pasta & Pasta to create the Bertollini, a limited-edition pasta shape, listed exclusively on Delicatezza.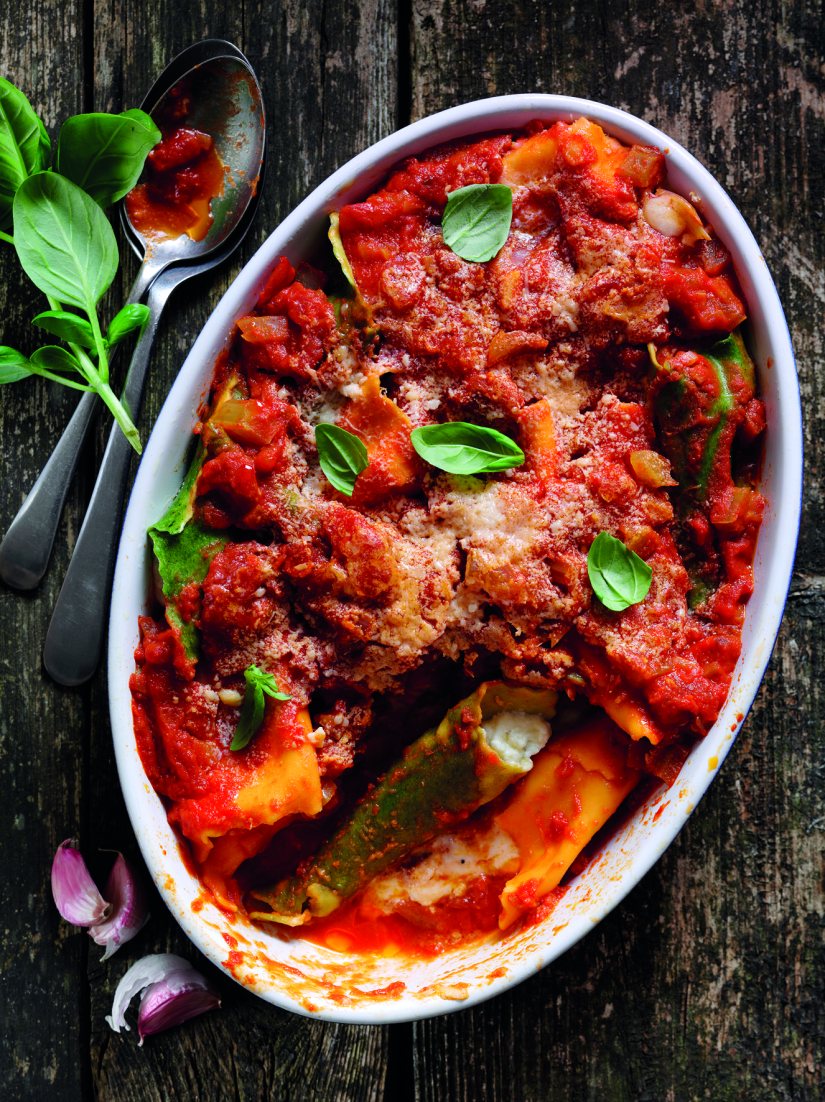 Ingredients:
20 x large multi-coloured pasta cones
For the sauce:
30g Bertolli with Butter, plus extra for dotting
1 small onion, finely chopped
1 garlic clove, peeled and finely chopped
½ celery stalk, finely chopped
2 x 400g tins of chopped plum tomatoes
handful of basil, finely chopped
For the filling:
200g ricotta
150g mozzarella finely chopped
20g grated vegetarian Parmesan-style cheese, plus extra for topping
handful basil leaves, finely chopped
a little salt & pepper
method:
Preheat the oven to 180C (fan oven).
First make the sauce. Melt Bertolli with Butter in a pan and sweat the onion, garlic and celery on a medium heat for about a minute. Add tomatoes with a little water (I usually rinse out the tomato cans – here I put ½ a can of water). Add basil, a little salt, cover with a lid and leave to simmer gently for about 20 minutes.
Meanwhile, make the filling. Combine all filling ingredients, season with a little salt and pepper. Place in a piping bag and fill each pasta cone.
Line an ovenproof dish (large enough to fit the cones) with about half of the tomato sauce. Arrange filled pasta cones over and spoon remaining tomato sauce on top and some grated vegetarian Parmesan-style cheesse, dot with Bertolli with Butter. Cover with foil and bake in the oven for 20 minutes. Remove the foil and continue to bake for a further 7 minutes.
Remove from the oven, leave to rest for a couple of minutes, then serve.
Print Recipe
www.bertolli.co.uk//
Did you make this recipe?
Share your creations by tagging @livegreenandgood on Instagram with the hashtag #livegreenandgood