Aubergine, Okra and New Potato Curry
Serves: 4
Cost Cutting Eco Friendly Vegan Friendly
Know your nutrients
Dhruv Baker created this recipe for Sainsbury's 'Little Twists' campaign, all about championing everyday food and inspiring the nation to make mid-week cooking a little less ordinary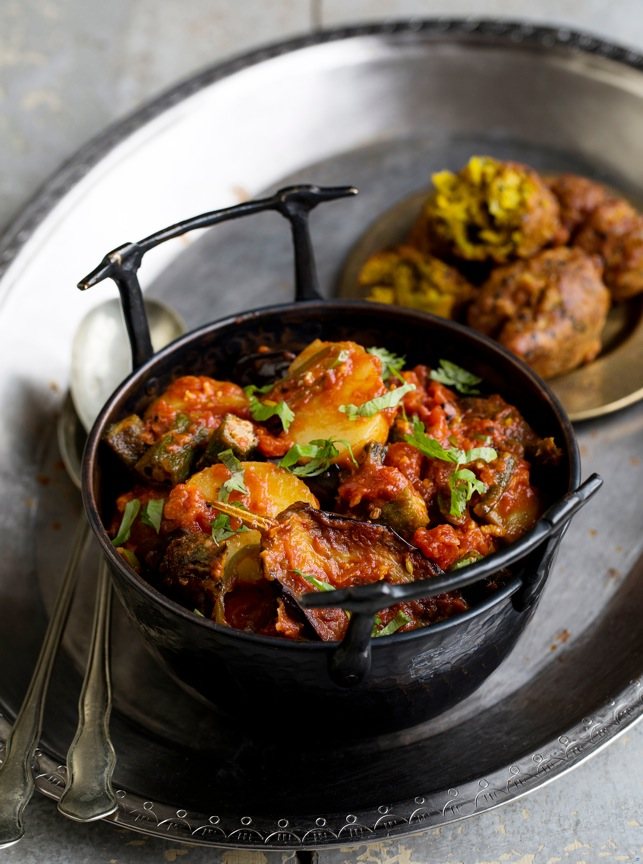 Ingredients:
4 tbsp vegetable oil
150g baby aubergines, cut in half lengthways
150g okra cut into 2cm pieces
1 tsp fennel seeds
1/2 tsp nigella seeds
1/2 tsp cumin seeds
2 x tsps grated ginger
4 x cloves crushed garlic
2 x green chillies finely sliced
1/2 tsp turmeric
2 tbsp tomato puree
400g tinned tomatoes (whizzed in a food processor or mashed with a fork)
150g cooked new potatoes
500ml vegetable stock
1 small bunch coriander, chopped
Salt to taste
method:
Heat half the oil in a frying pan on a medium heat and sauté the aubergines and okra for 5-10 minutes till starting to colour.
Meanwhile, heat the other half of the oil in a medium saucepan and add the fennel, nigella and cumin seeds and stir fry for 30 seconds then add the ginger, garlic and green chillies and cook for a further 30 seconds taking care not to let it burn.
Add the turmeric and immediately add the tomato purée and whizzed tinned tomatoes. Allow the mixture to simmer for 4 - 5 minutes then add the aubergines, okra and potatoes. Cook for a couple of minutes until the aubergines, okra and potatoes are fully covered in sauce, then add the stock and cook uncovered for 10 - 15 minutes on a medium heat.
Stir through the coriander, season and serve.
Print Recipe
www.sainsburys.co.uk
Did you make this recipe?
Share your creations by tagging @livegreenandgood on Instagram with the hashtag #livegreenandgood