Asparagus and Pea Minestrone Soup
Serves: 4
Ready in: 30 to 60 mins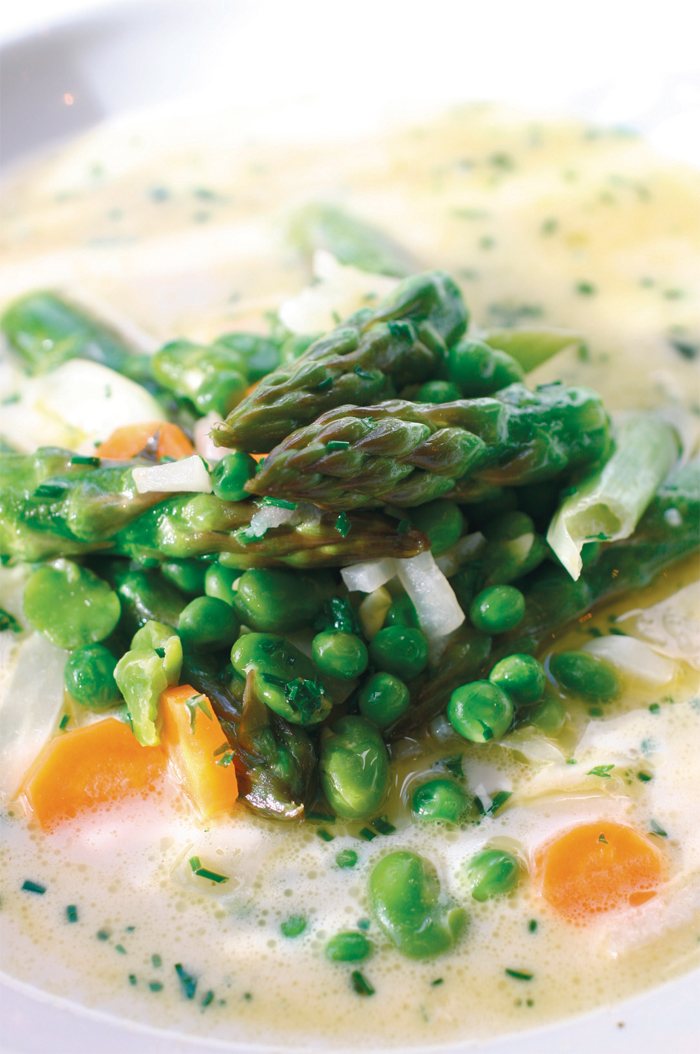 Ingredients:
250g asparagus tips
150g fresh peas (podded weight) or frozen petit pois
6 spring onions, trimmed and cut into thirds
3 small carrots, trimmed, peeled and cut into rounds
100g fresh or frozen podded broad beans
1 medium-sized fennel bulb, trimmed and thinly sliced
5 tbsp finely chopped mixed herbs (include mint, chives and parsley)
30g butter
2 tbsp extra virgin olive oil
150ml vegetarian dry white wine
510ml good vegetable stock
100ml double cream
freshly grated or shaved vegetarian Parmesan-style cheese
squeeze of lemon
sea salt
freshly ground pepper
method:
Melt the oil and butter in a large pan. Add the fennel and carrots and stir over a gentle heat for 5-6 minutes, being careful not to let them burn.
Add the spring onion and cook until softened, then pour in the white wine and simmer until reduced by half.
Add the vegetable stock and cook for a further five minutes on a low to moderate heat. Add the asparagus, broad beans and peas and cook for a further five minutes until tender.
Stir in the herbs and cream and season well with a squeeze of lemon juice, sea salt and freshly ground black pepper.
Serve at once, sprinkled with vegetarian cheese and with a chunk of warm bread on the side.
Print Recipe
www.britishasparagus.co.uk
Did you make this recipe?
Share your creations by tagging @livegreenandgood on Instagram with the hashtag #livegreenandgood