"I find myself using it even when I don't need to!"
Content creator Rachael puts Rose & Caramel's self-tan removal scrub to the test
ADVERTISEMENT FEATURE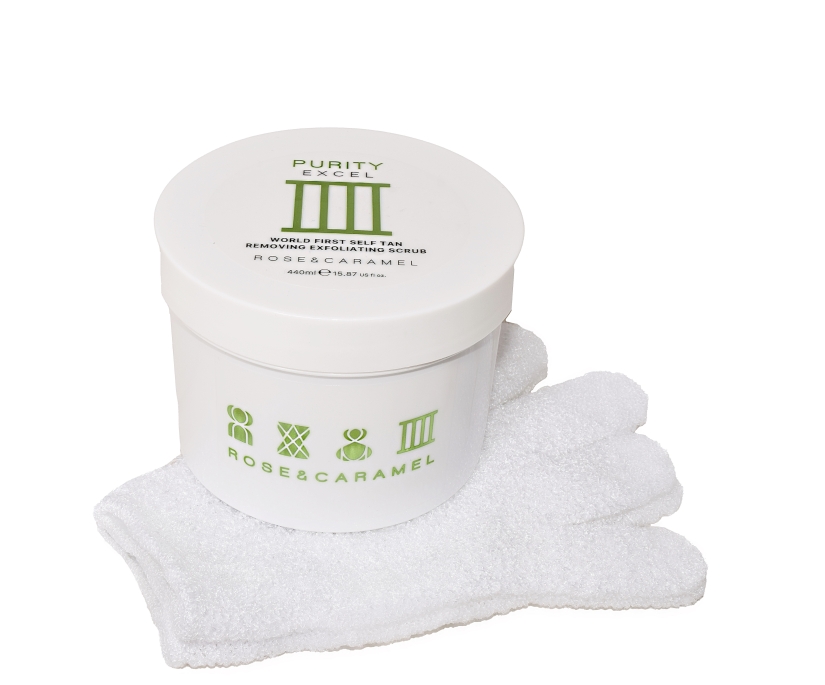 After trying Rose & Caramel's cruelty-free products for the first time, I've become a bit of a self-tan convert. The brand's at-home tanning sprays are super easy to use, provide an even, lasting tan, and smell divine. Plus after trying the Nudity Glow formula, my skin really was, well, glowing – and it had a wonderful hit of hydration, to boot. It certainly gave me the confidence boost I needed during lockdown, but of course, every tan must come to an end – even if only temporarily.
Being new to self-tanning, I quickly realised that removing a tan at home is about as important as applying it! Whether you apply too much, apply the tan in a way that leaves unwanted patches, or simply decide that you want to revert to your pre-tan tone, it's important to have a good-quality tan remover to hand.
Having enjoyed Rose & Caramel's tanning spray, I decided to try the brand's Purity Excel exfoliating scrub, which is specifically designed to remove self tans. The scrub as the same wonderfully sweet scent as its Purity Prep & Protect mist – there's a definite tropical vibe – and I'm pleased to find out that it's 100% vegan, paraben-free and sulphate-free.
The instructions are easy to follow, too. I rub the formula over my legs, where I want to remove the tan. I gently exfoliate with my hands then leave it to soak for a few minutes before hopping into the shower. The scrub comes with an exfoliating mitt, which helps to buff away the self-tan. I can see the residue on the mitts, which easily washes out, and the tan has immediately come off of legs, almost melting away. I can feel the scrub working its magic on my skin, too – effective yet gentle.
Afterwards, my skin feels well-exfoliated and soft. I love it just as a normal scrub, so over the next couple of weeks I find myself using it even when I don't need to remove any more tan! But coupled with the brand's other products, it works really well to keep my skin moisturised. I've learned that hydration is a key component of self-tanning, but it's also a welcome treat for my skin during these dry winter months. Needless to say, I'm a self-tan convert – and a Rose & Caramel one, too.
The Purity Excel self-tan removal exfoliating scrub is available for £26.99 at roseandcaramel.co.uk.
More from Cruelty Free Beauty