Witch's Cauldron Risotto
Serves: 4
This frighteningly delicious dish would make a fantastic centrepiece for any Halloween party!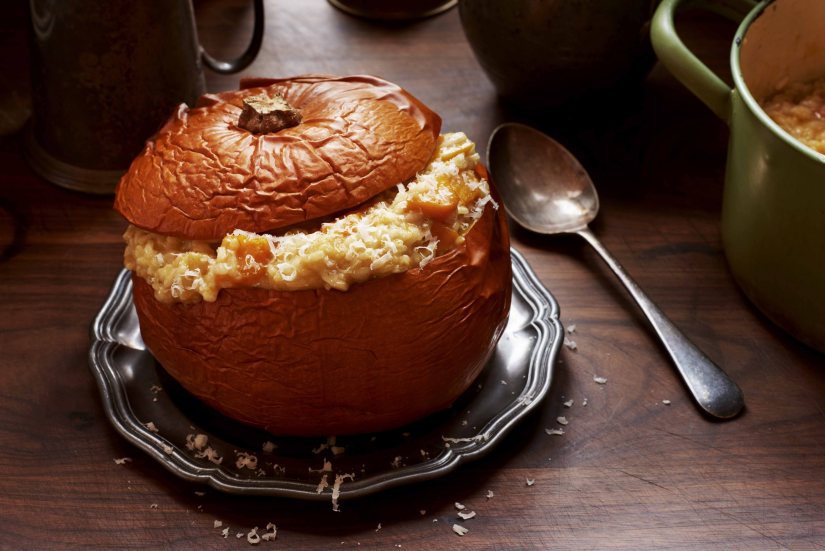 Ingredients:
800g pumpkin, peeled and chopped into 2 cm pieces. Keep pumpkin shell for serving.
3 tbsp olive oil
1/2 onion finely chopped
1/2 celery stick finely chopped
2 garlic cloves, crushed
1 vegetable stock pot
1 bay leaf
1 tsp fresh thyme leaves
140g Arborio rice
500ml boiling water
25g butter
50g vegetarian Parmesan-style cheese
method:
Preheat the oven to 180C/160F/Gas 4.
Place the pumpkin in a baking tray and drizzle with two tablespoons of olive oil. Bake for 15-20 minutes, until tender.
Heat the remaining oil, then add the onion and celery. Cook for five minutes, until the vegetables have softened. Add the garlic and cook for a further two minutes.
Add the stock pot, bay leaf, thyme and rice. Cook for three minutes, until the rice is coated well in the oil. Pour 100ml of boiling water to the rice and stir continuously, until all the liquid has been absorbed. Repeat this process until all the water has been used and the rice is cooked.
Add the butter and Parmesan-style cheese, then fold in the roasted pumpkin. Transfer to the pumpkin shell to serve.
Print Recipe
www.knorr.com/uk/home.html
Did you make this recipe?
Share your creations by tagging @livegreenandgood on Instagram with the hashtag #livegreenandgood