White Chocolate and Cherry Cheesecake
Serves: 12
Ready in: 60 mins +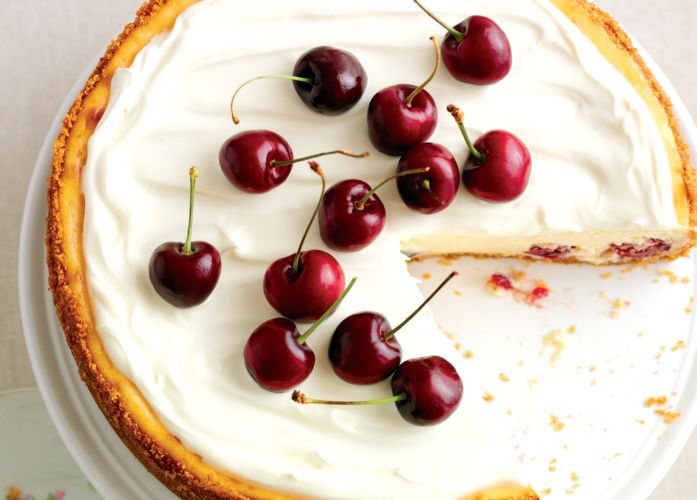 Ingredients:
[hd]For the biscuit base[/hd]
50g butter, plus a little extra for greasing
250g digestive biscuits
2 tbsp golden syrup

[hd]For the cheesecake[/hd]
200g white chocolate, broken into pieces
675g Philadelphia full-fat cream cheese
75g caster sugar
1 tsp vanilla extract
200ml double cream
4 medium free-range eggs
225g British cherries, stalks and stones removed

[hd]For the topping[/hd]
250ml carton full-fat crème fraîche
175g British cherries
method:
Preheat the oven to 180C/350F/Gas 4. Lightly butter a 23cm (9in) springform tin. Put the biscuits into a plastic bag and crush with a rolling pin or blitz in a food processor. Melt the measured butter in a saucepan with the golden syrup, stir in the biscuit crumbs, mix well then press into the base of the tin and two thirds of the way up the sides.
Bake for five minutes then take out of the oven and lower the temperature to 150C/300F/Gas 2.
Melt the chocolate in a bowl set over a saucepan of gently simmering water, making sure that the water does not touch the base of the bowl. Take off the heat, stir briefly and leave to cool for five minutes.
Beat the cream cheese, sugar and vanilla together with an electric whisk or in a processor. Gradually beat in the cream until thick once more then beat in the eggs one at a time, beating until smooth before adding each. Stir in the chocolate.
Scatter the stoned cherries over the biscuitlined tin then spoon the cheesecake mixture over the top. Bake for 35-45 minutes until firm around the edge and just beginning to colour while still slightly soft in the centre. Turn off the oven, open the door slightly and leave to cool completely. Chill in the fridge overnight or for at least six hours.
To serve, loosen the edge with a knife, remove the tin and transfer to a plate. Spread the crème fraîche on top then decorate with whole cherries.
Print Recipe
www.seasonalberries.co.uk
Did you make this recipe?
Share your creations by tagging @livegreenandgood on Instagram with the hashtag #livegreenandgood