Watercress Pesto Risotto with Crispy Leeks
Serves: 4
Ready in: 30 to 60 mins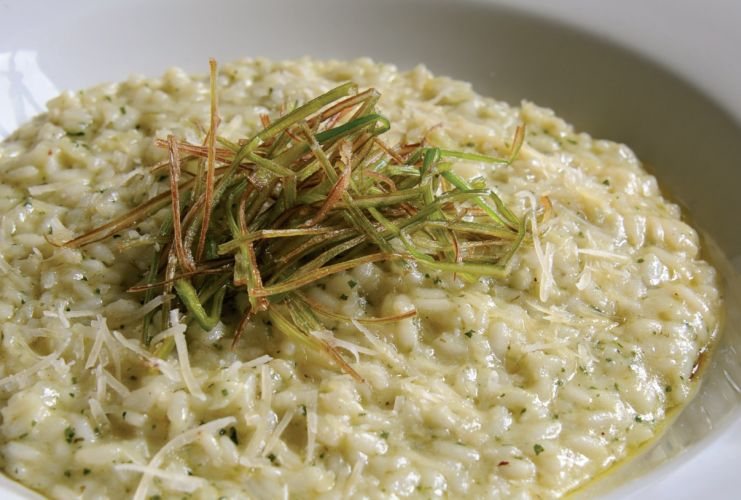 Ingredients:
250g good quality Arborio risotto rice
1 large white onion
2 garlic cloves
200ml good quality vegetarian dry white wine
500ml of vegetable stock
Maldon sea salt crystals
black pepper
100g of unsalted butter

[hd]For the pesto[/hd]
2 cups fresh watercress
2 tbsp hazelnuts or pine nuts
1 garlic clove
2 tbsp freshly grated vegetarian Parmesan-style cheese
200ml of Borderfields rapeseed oil
salt and pepper, to taste

[hd]To finish[/hd]
75ml double cream
150g vegetarian Parmesan-style cheese, grated
1 lemon
1 bunch fresh chives
crispy leeks (finely slice strips of leek, dust in some self-raising flour and fry in hot oil at about 160-180C, use a thermometer to check)
method:
Start by making the risotto base; finely dice your onion and crush your garlic, add this to a pan with a little oil and about 75g of butter. Allow to soften then add your dry risotto rice and stir until the rice is coated in the butter. Get your wine and add to the rice, stir until the wine has been absorbed. Heat the vegetable stock then add a small ladle at a time, allowing it to absorb before adding the next ladle, keep stirring to stop the risotto from sticking and making sure it cooks evenly. Continue to do this until you have used half the vegetable stock; this could take around 6-10 minutes. The rice should have a little bite to the outside and been slightly soft on the centre and have a slight nutty taste.
This is the risotto base, if your no going to finish the risotto straight away place in an container and put in the fridge for up to three days.
Now make your pesto by adding all your ingredients into a blender. Blitz, season to taste and set aside.
Now finish your risotto by adding 2 tbsp pesto, then your double cream, Parmesan-style, lemon juice and chopped chives. Check the seasoning and serve with crispy leeks.
Print Recipe
www.borderfields.co.uk
Did you make this recipe?
Share your creations by tagging @livegreenandgood on Instagram with the hashtag #livegreenandgood