Watercress, Mushroom and Cashew Stir-fry
Serves: 4
Ready in: 15 to 30 mins
Know your nutrients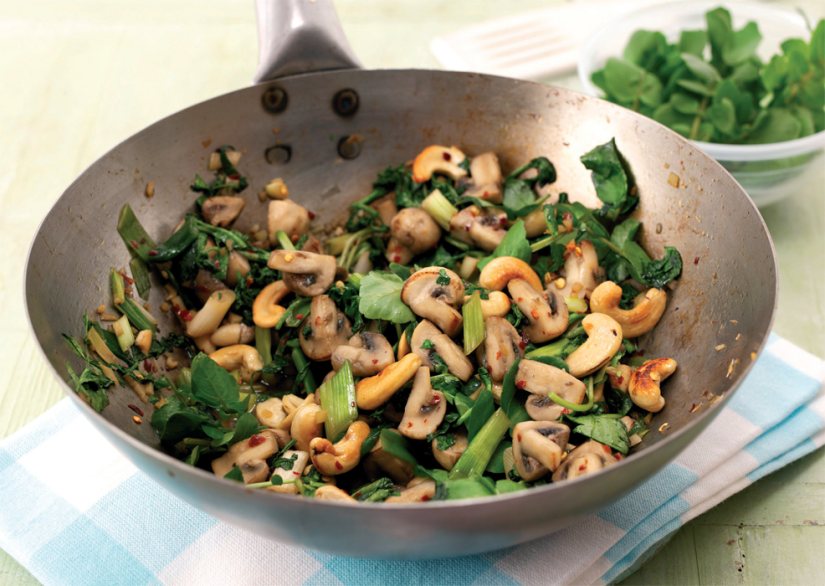 Ingredients:
1 tbsp vegetable oil
350g mushrooms, quartered
3cm piece fresh root ginger, peeled and grated
2 garlic cloves, finely chopped
3 spring onions, sliced
1/2 tsp dried chilli flakes
1 tbsp honey
2 tbsp soy sauce
2 tbsp cashew nuts
100g watercress, roughly chopped
method:
Heat the vegetable oil in a wok or frying pan until almost smoking, add the mushrooms and cook over a high heat for 3-4 minutes.
Add the ginger, garlic, spring onions and chilli and stir-fry for a further 2 mins before adding the honey, soy, cashews and roughly chopped watercress. Toss to combine and stir-fry for a final 30 seconds to lightly wilt the watercress. Serve immediately.
Print Recipe
www.watercress.co.uk
Did you make this recipe?
Share your creations by tagging @livegreenandgood on Instagram with the hashtag #livegreenandgood