Veggie Barbecue Skewers with Coconut Dressing
Serves: 4
Ready in: 15 to 30 mins
Fire up the barbie with these delicious skewers from Alpro!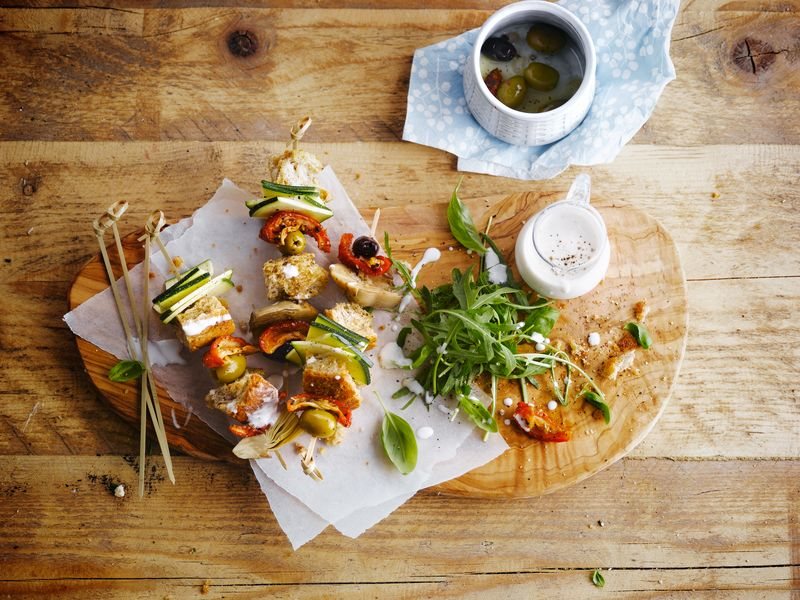 Ingredients:
125ml Alpro Soya Single
60ml Alpro Coconut Unsweetened
1 tbsp white balsamic vinegar
1/2 tbsp honey
pinch of freshly ground pepper
pinch of salt
4 thick slices of walnut bread
1 courgette
12 sun-dried tomatoes
12 artichoke hearts
a few basil leaves
12 olives
100g rocket salad
method:
To make the coconut dressing, mix together the Alpro Soya Single, Alpro Coconut Unsweetend, white balsamic vinegar and honey. Season to taste.
Cut or tear the thick slices of walnut bread in equal parts and toast these bread pieces until golden. Then, cut thin slices of courgetti and cut the artichoke hearts in half. Season well.
Take 12 large barbecue skewers and stick alternately the courgette pieces, the bread pieces, halved artichoke hearts, sundried tomatoes and basil onto the stick.
Serve the veggie barbecue skewers on a plate with rocket salad and pour over the coconut dressing.
Print Recipe
www.alpro.com/uk
Did you make this recipe?
Share your creations by tagging @livegreenandgood on Instagram with the hashtag #livegreenandgood