Tenderstem Gratin
Serves: 4
Ready in: 30 to 60 mins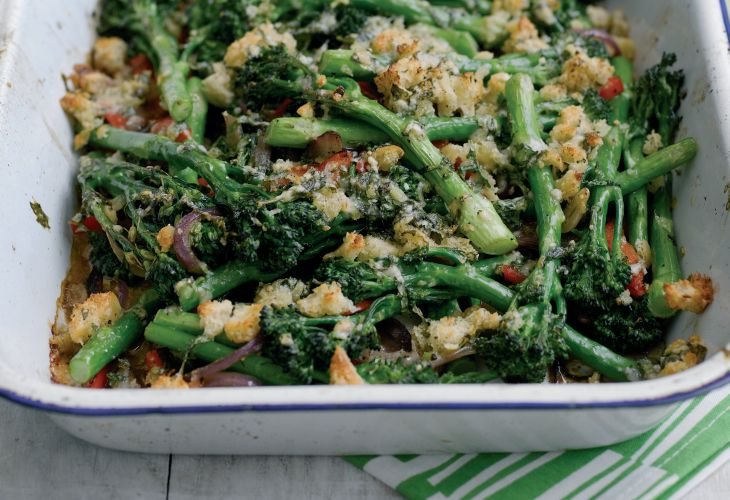 Ingredients:
3 tbsp olive oil
1 large red pepper, seeded and thinly sliced
1 red onion, thinly sliced
2 garlic cloves, peeled and thinly sliced
400g Tenderstem broccoli
150ml white wine or vegetable stock
50g ciabatta bread
40g finely grated vegetarian parmesan-style cheese
handful of basil leaves, shredded
method:
Preheat the oven to 200C/400F/Gas 6. Heat 2 tbsp of the olive oil in a frying pan, and then gently sauté the red pepper and onion for about 10 minutes until they are softened and just startingto become golden.
Add the garlic and Tenderstem to the pan, and continue to cook for 3-4 minutes. Pour in the wine or stock, and increase the heat so the liquid simmers and steams the broccoli. After a few minutes, remove from the heat and season with salt and pepper.
Arrange in a single layer in a gratin/oven-proof dish. Scatter over the basil. Crumble the ciabatta bread into small pieces into a bowl. Toss together with the parmesan cheese and remaining 1 tbsp of olive oil. Season to taste and scatter over the top.
Place in the oven and cook for 10-15 minutes until the crumbs are golden and crispy. Serve straight away.
Print Recipe
www.tenderstem.co.uk
Did you make this recipe?
Share your creations by tagging @livegreenandgood on Instagram with the hashtag #livegreenandgood