Spinach & Goat's Cheese Croquetas
Cost Cutting Eco Friendly Freezes Well
This tasty recipe was created by José Pizarro of Jose and Pizarro. He will be present at this year's Taste of London event, which takes place on 5-19 June in London's Regent's Park. Tickets and info can be found at tasteoflondon.co.uk. This recipe is taken from José's book BASQUE: Spanish Recipes From San Sebastián and Beyond (Hardie Grant, £25.00) Photography by Laura Edwards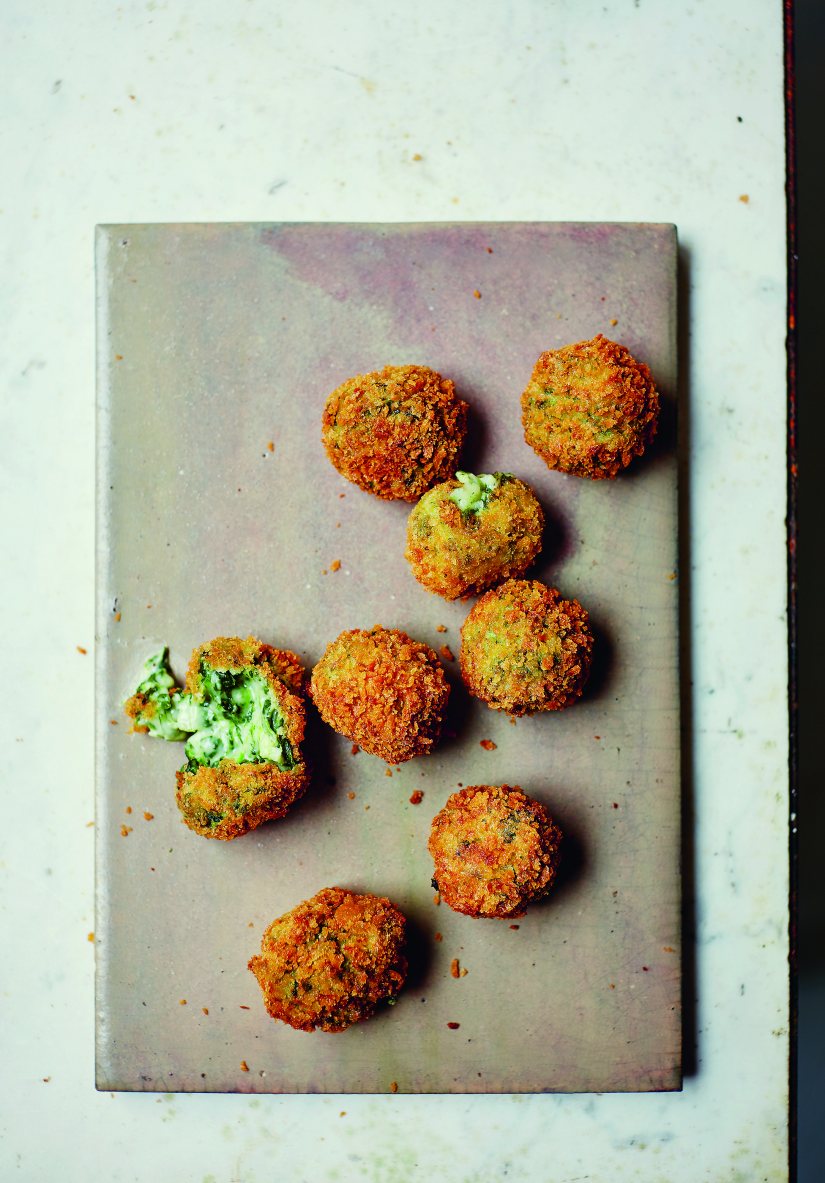 Ingredients:
500g baby leaf spinach
400ml full-fat milk
100ml strong fresh vegetable stock
80g butter
125g plain flour
80g goat's cheese, crumbled
sea salt and freshly ground black pepper
freshly grated nutmeg
2 large free-range eggs, beaten
125g dry breadcrumbs
olive oil, for deep-frying
method:
Heat a large frying pan over a medium-high heat and add the spinach with a tiny splash of water. Cook for 3–4 minutes or until completely wilted, then run under cold water. Once cold, squeeze out all the water. Chop finely and set aside.
In a saucepan, heat the milk and the stock together. In another saucepan, melt the butter over a medium heat, add the flour and cook for 2–3 minutes. When the mixture starts to turn brown, begin adding the milk and stock very slowly until you get a really silky-smooth mix. This will take approximately 10 minutes.
Add the cheese to the mixture slowly, then add the spinach and stir constantly until it is well combined. Season with salt, pepper and a grating of nutmeg.
Spread the mixture onto a shallow tray and press a sheet of cling film (plastic wrap) over the top. Cool down in the fridge for a minimum of 2 hours.
Put some oil in the palm of your hand and roll the mixture into 30g balls. If they are a little soft, pop them on a tray in the freezer to firm up for 30 minutes.
Place the beaten egg and the breadcrumbs into two separate bowls. Dip the croquetas first into the beaten egg and then into the breadcrumbs.
Heat the oil to 180°C and fry the croquetas for around 2 minutes or until golden. Drain on paper towels, then eat straight away.
Print Recipe
www.tasteoflondon.co.uk /
Did you make this recipe?
Share your creations by tagging @livegreenandgood on Instagram with the hashtag #livegreenandgood