Smooth Peanut Butter
Ready in: 15 to 30 mins
Cost Cutting Eco Friendly Quick Make Vegan Friendly
This is the simplest peanut butter, which is made with unroasted, unsalted nuts; ideal if you are following a 'raw' diet. Blended until smooth, it has a lighter colour and milder flavour than commercial peanut butter. If you wish to sweeten it, you can use brown sugar or, for a softer nut butter, add a liquid sweetener such as agave or maple syrup. The recipe makes about 450g. Recipe extracted from The Vegan Dairy by Catherine Atkinson (Lorenz Books, £15)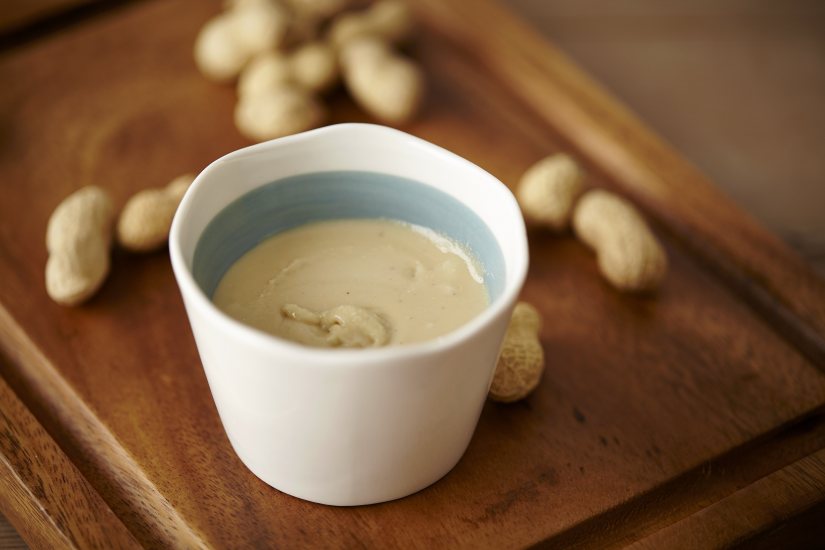 Ingredients:
450g raw unsalted peanuts
¼ tsp salt (optional)
1–2 tsp agave or maple syrup (optional)
1–2 tsp groundnut or sunflower oil (optional)
method:
Put the peanuts in a food processor or blender. Sprinkle with salt if you are using it. Pulse the blender a few times to start breaking up the nuts, then process for 1 minute, or until the peanuts are finely ground.
Scrape the sides of the bowl with a rubber spatula, then add the sweetener, if using, and 1 tsp of the oil, if you don't have a high-powered blender or food processor; this will help to soften the nuts so that they blend smoothly.
Process the mixture for 2–3 minutes, until the nuts come together in a clumpy paste. Stop and scrape down the sides of the bowl again. Take care not to overheat the machine; stop if necessary.
Continue processing the mixture for a further 2–3 minutes. At first, the peanut butter will get thicker, but gradually it will become smoother and creamier as it begins to flow freely through the blades. Add the remaining oil at this stage, if using.
Use a rubber spatula to transfer the peanut butter into a clean container or sterilised jars. Store the peanut butter in the fridge (homemade nut butter doesn't contain preservatives, so it won't keep as long as commercial varieties). Use within 4 weeks of making.
COOK'S TIPS: Be aware that the mixture is likely to heat up considerably while you are processing the nuts, so to avoid burns, leave the butter in the food processor to cool before tasting or decanting it. Pause frequently if you are using a low-powered machine to prevent it from overheating. For longer storage, decant the peanut butter into suitable freezer-proof containers and freeze for up to 3 months.
Print Recipe
www.waterstones.com/book/the-vegan-dairy/9780754834861
Did you make this recipe?
Share your creations by tagging @livegreenandgood on Instagram with the hashtag #livegreenandgood