Easy Cake Balls
Serves: 10
Ready in: 30 to 60 mins
Cake balls are the new cupcakes, and this recipe proves how easy it is to get into the trend. If you're in a real hurry, this can be made with a pre-bought marble cake - it's also a great recipe for the whole family to make together!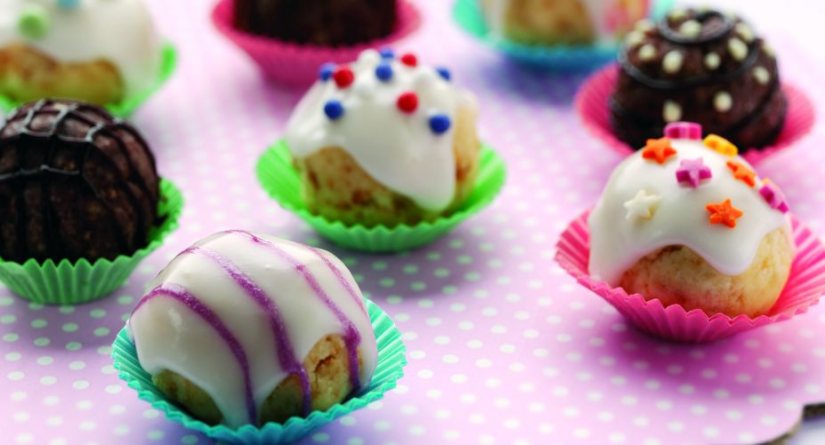 Ingredients:
1 pack Sainsbury's Marble Cake Mix
2 free-range eggs

[hd]For the butter icing:[/hd]
75g butter, softened
150g icing sugar, sifted
1 tbsp milk

[hd]To decorate[/hd]
5 tbsp icing sugar, sifted
Sainsbury's Caramel and Chocolate Flavour Writing Icing
vegetarian sugar stars and vegetarian sugar balls
method:
Preheat the oven to 180°C/350°F/Gas Mark 4. Grease and line a 450g loaf tin.
Empty the chocolate and vanilla cake mixes into two separate bowls, then add 1 egg and 3 tbsp of cold water to each bowl. Using an electric whisk, mix each on a medium speed for two minutes. Spoon the cake mix into either end of the prepared tin and smooth the top. Do not worry that the cake batter combines in the middle.
Bake in the centre of the oven for 40 minutes, or until well risen.Cool in the tin for five minutes before transferring to a wire rack. Leave to cool.
For the butter icing: beat the butter in a bowl until soft .Add half of the icing sugar and mix until smooth. Tip in the remaining icing sugar and the milk. Beat until soft.
When the cake has cooled, crumble the vanilla end into one bowl and the chocolate part into another. Stir in half the butter icing into each bowl and combine. Dust your hands with icing sugar and roll the mix into walnut-sized balls. Leave to set.
For the topping, stir together the icing sugar with a teaspoon of boiling water, mixing until a thick ribbon consistency is achieved. Drizzle over a few of the vanilla cake balls and decorate with a selection of the sprinkles.
Decorate the chocolate cake balls by drizzling with the Caramel and Chocolate Flavour writing icing.
Print Recipe
www.sainsburys.co.uk
Did you make this recipe?
Share your creations by tagging @livegreenandgood on Instagram with the hashtag #livegreenandgood