Quail Egg Arancini
Serves: 12
Ready in: 30 to 60 mins
If you have leftover risotto, this is a great zero-waste idea for turning into something new and exciting! Served with a herby mayo dip, these scrumptious arancini balls are a fabulous starter, light bite or canapé, but can also be eaten cold on a picnic!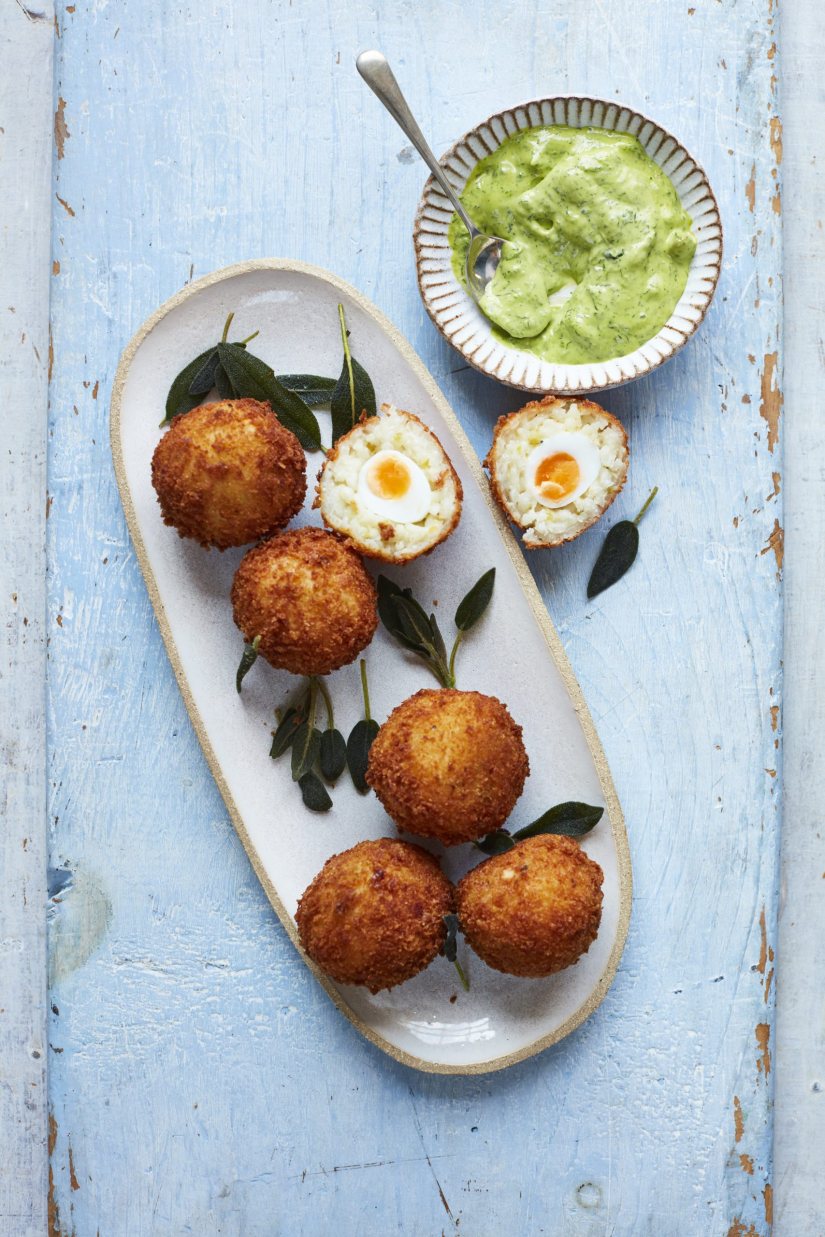 Ingredients:
400g leftover risotto, cold
12 Clarence Court quails eggs
50g plain flour
sea salt and freshly ground black pepper
cayenne pepper
1 egg, beaten
100g dried breadcrumbs
a small bunch of sage leaves
vegetable oil, for deep-frying
200g homemade or good-quality rapeseed mayonnaise
1 tsp baby capers, rinsed, dried and chopped
a small bunch of dill, parsley and basil, leaves chopped
method:
Start by mixing the leftover risotto; if it is very dry, add a little beaten egg if needed.
Boil the quails eggs to soft boil; this usually takes around 90 seconds-2 minutes. Plunge into cold water and, when cooled, peel and place to one side.
Take three plates, and mix the flour with salt, pepper and a good pinch of cayenne pepper on one. Have the beaten egg on another plate and the dried breadcrumbs on the third.
Take a small ball of cooled risotto and flatten into a rough disk. Place an egg in the centre of the disc and pat into a little ball with extra risotto if needed. Roll the ball in the seasoned flour, dip into the beaten egg and then roll in the breadcrumbs. Place on another plate and repeat until you have 12 breadcrumbed arancini. Pop them in the fridge whilst you heat the vegetable oil and make the mayonnaise.
Heat about 13cm of vegetable oil in a medium saucepan. Meanwhile make the mayo by spooning the mayonnaise into a small mixing bowl and adding the capers. Chop the herb leaves a little and add them to a pestle and mortar with a pinch of sea salt. Bash the leaves well until you make a paste, then stir them through the mayo. Season well with the pepper.
When the oil is hot enough (test with a piece of bread: when it turns lovely and golden, the oil is ready), carefully fry two arancini at a time, turning if needed until the breadcrumbs are golden. Lift the arancini out with a slotted spoon on to kitchen roll. Pick the sage leaves and add them to the oil, fry for a few seconds and lift them out with the slotted spoon on to the paper. Put the arancini into a bowl and scatter over the fried sage leaves. Serve immediately with the herby mayo, or cold as part of a picnic.
Print Recipe
www.clarencecourt.co.uk/
Did you make this recipe?
Share your creations by tagging @livegreenandgood on Instagram with the hashtag #livegreenandgood