Pumpkin, Cheese and Chive Muffins
Serves: 7
Ready in: 30 to 60 mins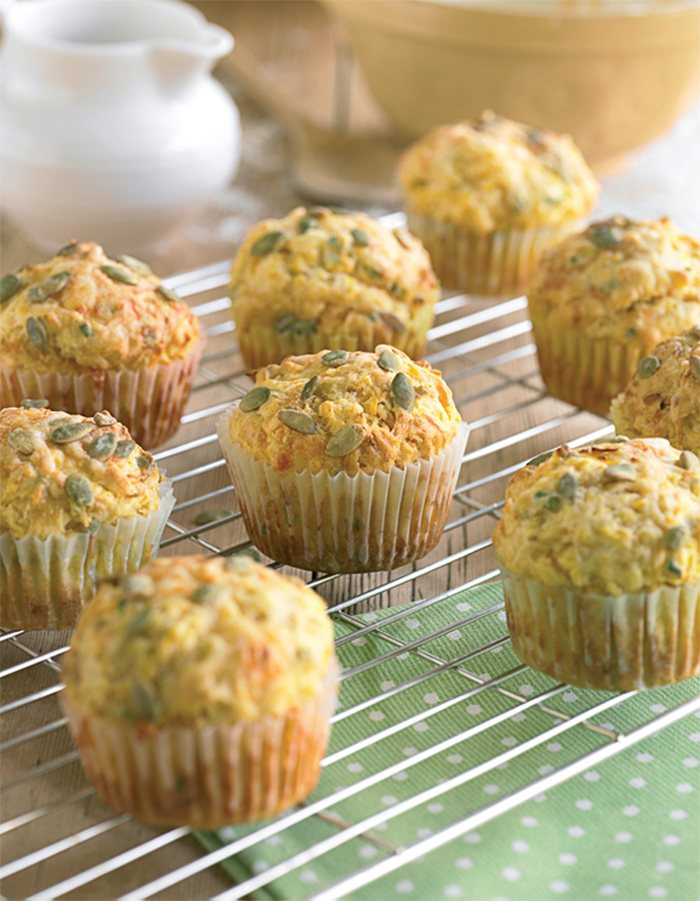 Ingredients:
275g plain flour

1 tbsp baking powder

85g Country Life Lighter spreadable butter, melted

1 tbsp caster sugar

100g reduced fat mature vegetarian Cheddar cheese

275g peeled and grated pumpkin (or butternut squash)

2 tbsp freshly snipped chives

2 free-range eggs

175ml semi-skimmed milk

2 tbsp pumpkin seeds
method:
Preheat the oven to 180C/375F/Gas 5. Line a muffin tin with 10 paper muffin cases. In a large bowl, sift together the flour and baking powder.
Stir the sugar, cheese, pumpkin or butternut squash and chives into the flour mixture and mix well.
In another bowl, beat together the eggs, milk and melted butter, and pour over the dry ingredients.
Stir until just combined; the batter will be lumpy. Fill the muffin cases, then sprinkle the tops with the pumpkin seeds.
Bake for 20-25 minutes until risen and firm. Serve still warm from the oven, or cold.
Print Recipe
www.enjoycountrylife.co.uk
Did you make this recipe?
Share your creations by tagging @livegreenandgood on Instagram with the hashtag #livegreenandgood