Porcini Soup
Serves: 6
Ready in: 60 mins +
Cost Cutting Eco Friendly Freezes Well Gluten Free‏
Everyone loves a mushroom soup. Make yours just that bit more special by using porcini mushrooms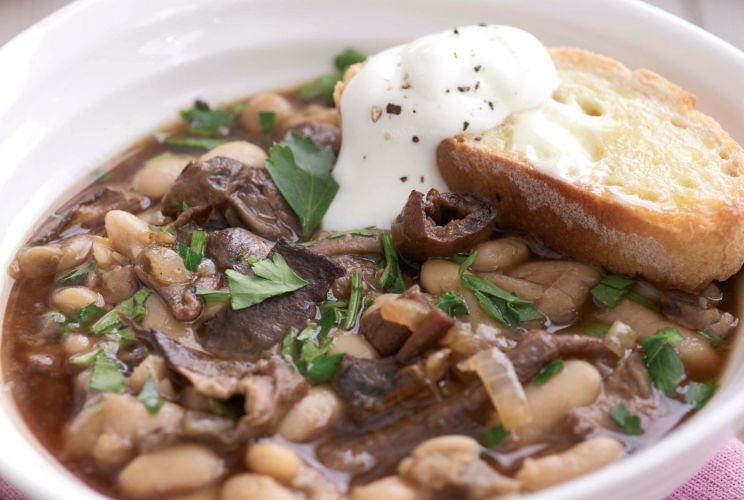 Ingredients:
400g dried cannellini beans, soaked in cold water overnight and drained
2 garlic cloves (1 chopped, 1 whole)
100ml olive oil
1 onion, finely sliced
100g dried porcini mushrooms, rehydrated
1 tbsp fresh flat-leaf parsley, chopped
10 chunky slices of bread
organic unsalted butter, for spreading
Yeo Valley Organic Natural Yoghurt
method:
Put the beans in a saucepan, add 1.5lt of water, one of the garlic cloves and a tablespoon of the oil. Bring to the boil, then lower the heat and simmer for two hours.
Heat the remaining oil in a frying pan, add the onion and cook over a low heat for 10 minutes until lightly browned, stirring occasionally.
Add the rehydrated porcini mushrooms, increase the heat to high and cook for a few minutes more. Season with pepper and tip the contents into the saucepan with beans.
Cook for a few minutes more, add the parsley and the seasoning to taste. Gently rub the bread with the rest of the garlic, spread with a little butter, toast lightly and serve on top of the soup. Enjoy with a dollop of yoghurt on top.
Print Recipe
www.yeovalley.co.uk/
Did you make this recipe?
Share your creations by tagging @livegreenandgood on Instagram with the hashtag #livegreenandgood