Oumph! Balls & Tomato Sauce Pasta
Serves: 4
Ready in: 15 to 30 mins
Everyone loves a hearty pasta dish! This one is wonderfully comforting and filling; it features the new Swedish meat-less meatballs from Oumph! which are made from soya, high in fibre, and gluten- and dairy-free. The plant-based balls are a firm family favourite, and will roll perfectly into your favourite recipes like this one.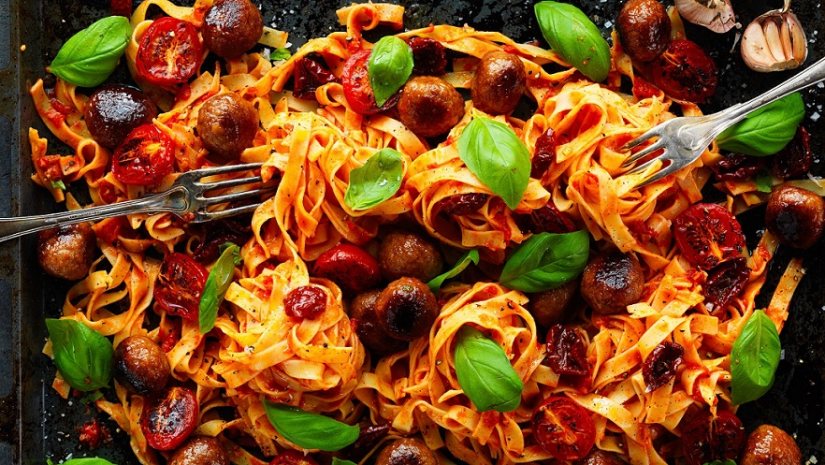 Ingredients:
2 packs Oumph! Balls (280g)
500g tagliatelle pasta
400g tinned chopped tomatoes
6 garlic cloves, chopped
½ fresh chili, chopped (or more, if you like a bit of heat)
2g ground thyme
28 pcs sun-dried cherry tomatoes
20 pcs fresh cherry tomatoes
large handful of fresh basil
2 tbsp olive oil
salt, to taste
freshly ground black pepper
handful of fresh basil, optional
method:
Fry the garlic in olive oil, then add the chili, thyme and then the tomatoes. Add a little water and cook for about 10 minutes, until it reaches the desired consistency. Add salt to taste.
Boil the pasta al dente, and fry the Oumph! Balls in a little olive oil.
Mix the cooked pasta with the tomato sauce, then add the Oumph! Balls. Place on a large serving plate and sprinkle over the basil and ground black pepper.
Print Recipe
oumph.uk
Did you make this recipe?
Share your creations by tagging @livegreenandgood on Instagram with the hashtag #livegreenandgood