Mexican Stuffed Potatoes
Serves: 3
Ready in: 60 mins +
The best way to cook a sweet potato is to stay true to its background. These delicious plants are native in Central and South America, hence we took the inspiration for this mouth-watering recipe from Mexico! The vibrant colours of red kidney beans, sweetcorn, and avocado are a feast for the eyes, plus they're full of good nutrition and are crazy delicious!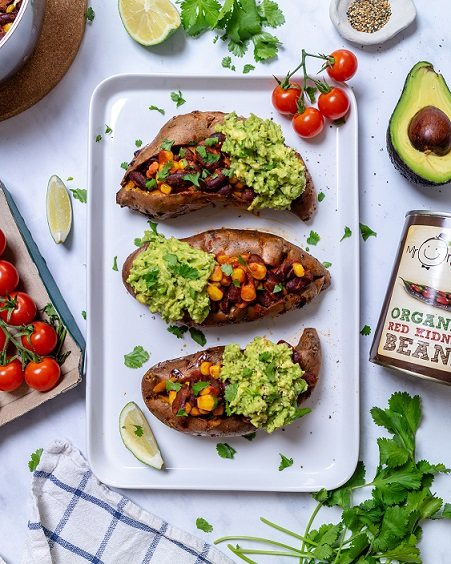 Ingredients:
3 sweet potatoes, pierced and roasted until tender
200g sweetcorn
½ tin Mr Organic Red Kidney Beans
1 tbsp Mr Organic Italian Tomato Purée
¼ tsp cayenne pepper
½ tsp smoked paprika
1 avocado, smashed
juice of 1 lime
fresh coriander
salt and pepper
method:
Turn on the oven to 200C/400F/Gas 6 and roast the potatoes for 35-45 mins. Set them aside to cool.
While the potatoes are roasting, make the filling. Cook the sweetcorn and kidney beans together with the tomato purée and the spices. Season to taste.
Mix the smashed avocado with the fresh lime juice, and season with salt and pepper.
Once the potatoes have cooled down a bit, cut them in the middle, then spoon over the fillings evenly.
Serve the stuffed potatoes with fresh coriander sprinkled on top, and enjoy!
Print Recipe
www.mr-organic.com/
Did you make this recipe?
Share your creations by tagging @livegreenandgood on Instagram with the hashtag #livegreenandgood