Mafalda Corta with Vegan Mushroom Lentil Ragu
Serves: 4
Ready in: 30 to 60 mins
Know your nutrients
If you love hearty pasta dishes, this healthier version is wonderfully comforting. The curl at the edges of the pasta also ensure the delicious and rich sauce clings to each piece of pasta for full flavour in every bite.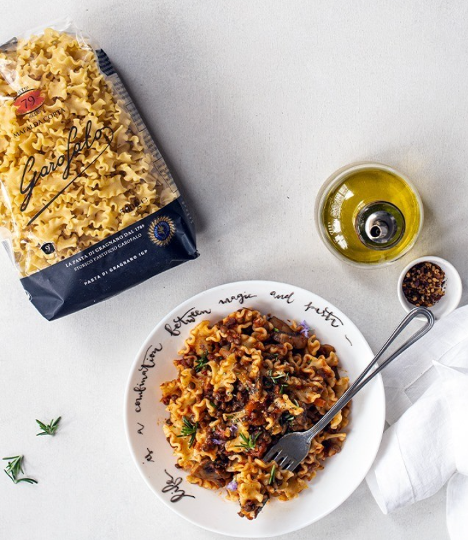 Ingredients:
400g Garofalo Mafalda Corta
1 onion, finely sliced
2 small carrots, finely sliced
1 celery stalk, finely sliced
400g cremini mushrooms, sliced
white white, enough to add a splash
2 sprigs of rosemary
1 tin finely chopped tomatoes
200g tinned lentils, rinsed
2 tbsp olive oil
salt and pepper, to taste
method:
Heat two tablespoons of the olive oil on a medium heat. Add the mushrooms with some salt and pepper and saute for 10 minutes.
Add a splash of white wine, stir well and let the alcohol evaporate.
Add the chopped onion, carrots and celery along with the rosemary to the mushrooms. Allow to simmer on a low heat for 10 minutes.
Add the chopped tomato and stir well. Cover and allow to simmer for another 15 minutes.
When the sauce has come together, add a splash of water to loosen it up.
Add the lentils, stir well and cook for a further 10 minutes to incorporate them fully into the sauce.
Whilst the lentils are cooking, bring a sauce pan of water to the boil (at least one litre per 100g of pasta). Once boiling, add a good quantity of rock salt along with the Mafalda Corta. Cook for eight minutes, stirring as it cooks.
When the pasta is cooked, drain and add to the mushroom sauce. Stir well to ensure the pasta finishes cooking and is fully coated in the sauce.
Divide between four warmed bowls, and finish with a little extra olive oil and some rosemary.
Print Recipe
www.pasta-garofalo.com/uk/
Did you make this recipe?
Share your creations by tagging @livegreenandgood on Instagram with the hashtag #livegreenandgood