Kimberly Wyatt's Tomato & Turmeric Curry
Serves: 4
Cost Cutting Eco Friendly Freezes Well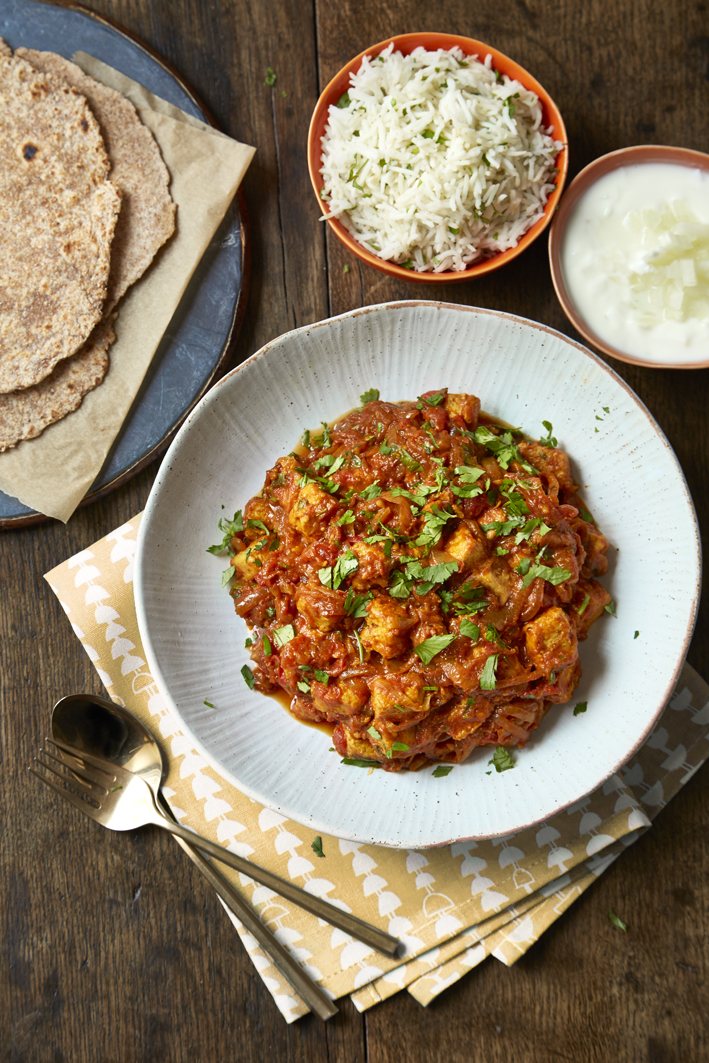 Ingredients:
300g Quorn Pieces
2 tbsp sunflower oil
3 medium onions, thinly sliced
3cm piece fresh ginger, grated
4 garlic cloves, crushed
½ tsp cumin seeds
1 tsp turmeric
½ tsp chilli powder (or more to taste)
½ tsp garam masala
3 large tomatoes, chopped
1 tbsp tomato puree
Splash of water
Handful of freshly chopped coriander
Sea salt to taste
For the chapatis:
125g wholemeal flour
Pinch of salt
1 tbsp coconut oil (or sunflower oil)
60g water
For the onion raita:
250g natural yoghurt
½ small onion, finely diced
method:
Heat the oil in a frying pan and add the onions. Cook over a medium heat for 10 minutes, or until soft and golden brown. Add the ginger and garlic and cook for a further 3-5 minutes. Add the cumin seeds and turmeric, stir well then add the chilli powder and garam masala and cook out the spice for a few minutes, stirring so that they don't catch on the bottom of the pan. Add the tomatoes, tomato puree and a splash of water to the pan and stir to combine. Cover and cook for 20 minutes until the tomatoes have broken down, adding more water as necessary.
Meanwhile, make the chapatti dough. Add the flour and salt to a large mixing bowl. Combine the water and coconut oil and add to the flour. Mix to form a soft dough. Tip out onto a floured surface and knead until smooth. Divide into six balls and roll each one out into a thin circle. Put to one side while you add the Quorn Pieces to the sauce and continue to cook the curry for eight minutes (10 if cooking from frozen).
Preheat a frying pan until hot then cook the chapatis one at a time, cooking for two minutes on each side. Keep warm in a clean tea towel until ready to serve. Stir the coriander into the sauce and season to taste. Mix the onion and yoghurt together.
Serve with coriander rice, onion raita and the chapatis.
Print Recipe
www.quorn.co.uk/
Did you make this recipe?
Share your creations by tagging @livegreenandgood on Instagram with the hashtag #livegreenandgood