Ice-cube Drinks Boosters
Ready in: Under 15 Mins
Freezes Well Quick Make Vegan Friendly
This is really what ice-cube trays were meant for – why freeze water when you can freeze lots of colourful, tasty and cleverly combined ingredients (and odds and ends that were destined for the bin) to revolutionise the way you serve your drinks! Once the cubes are frozen solid, pop them out into resealable freezer bags for easy access. Below, three recipes are given for creative ways you can flavour your Bloody Mary, Pimms or water. Recipe extracted from The Ice Kitchen by Shivi Ramoutar (HarperNonFiction, £16.99). Photography: Andrew Burton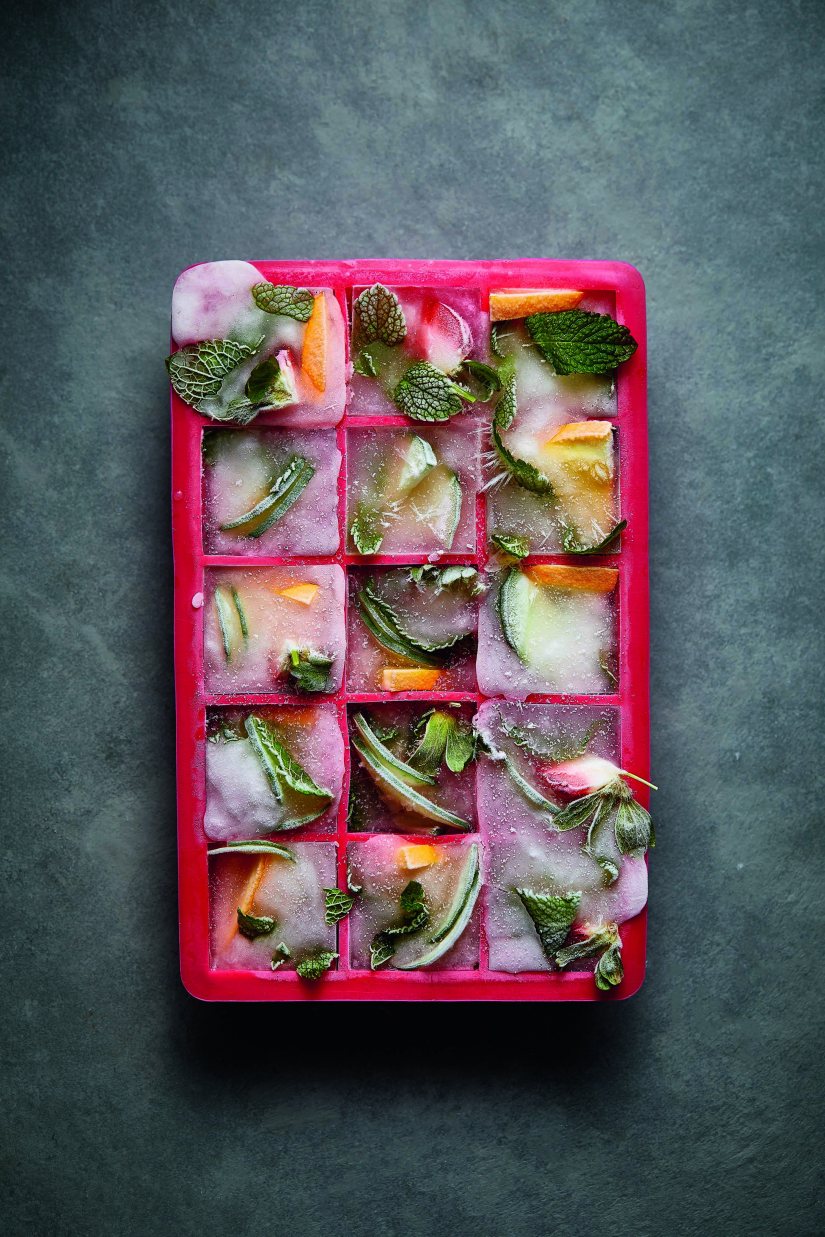 Ingredients:
For the Mary Cubes:
celery (stalks and leaves)
sea salt and freshly cracked black pepper
Tabasco
vegetarian-friendly Worcestershire sauce
fresh lemon juice
horseradish (optional)
For the Pimms Cubes:

cucumber
strawberry
fresh mint leaves
orange
lemonade
For the Water Infuser Cubes:
any fruit of your choice
cucumber (optional)
fresh mint and rosemary (optional)
method:
For Mary Cubes, chop some celery into pieces small enough to fit inside an ice cube and pop a piece in each hole, along with a couple of celery leaves. Generously sprinkle some sea salt and freshly cracked black pepper in each, add a few dashes of Tabasco and Worcestershire sauce (depending on how strong you like it) and top with lemon juice. For an extra kick, add a little grated fresh horseradish. Add the frozen cubes to your Virgin or Bloody Mary.
For Pimms, put small pieces of cucumber and strawberry into each ice-cube tray hole, add mint leaves and small pieces of orange and top with lemonade. Add to your Pimm's.
For Water Infuser Cubes, try adding any choice of fruit, crush it a little, then pop it into an ice-cube tray along with an intact version (ie some lemon juice with a slice of lemon, or crushed raspberries with a whole raspberry). Top up with water and freeze until solid. Add to your water for a special, infused twist. Or simply add mint leaves, cucumber pieces or small sprigs of rosemary to your usual water-filled ice cubes.
Print Recipe
www.harpercollins.co.uk/corporate/harpercollins-imprints/harpernonfiction/
Did you make this recipe?
Share your creations by tagging @livegreenandgood on Instagram with the hashtag #livegreenandgood