Hommity Quesadilla
Serves: 4
Ready in: 15 to 30 mins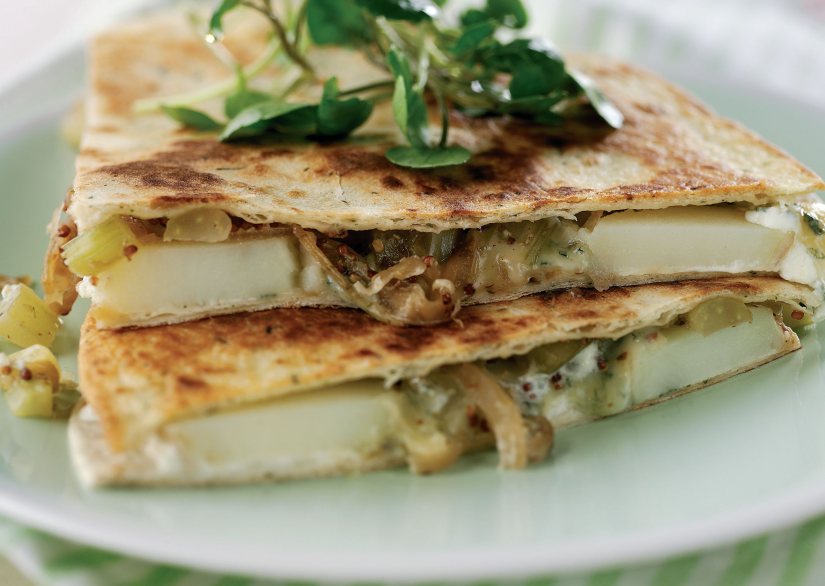 Ingredients:
4 Mission Deli (or other) wraps
2 tbsp olive oil
2 medium onions, thinly sliced
3 celery sticks, chopped
350g new potatoes, cooked and sliced
200g West Country blue cheese such as Cornish Blue
4 tbsp Greek-style thick yoghurt
2-3 tsp wholegrain mustard
method:
Heat 1 tbsp of oil in a large non-stick frying pan, add the onions, cover and cook over a low heat for 10 minutes, stirring occasionally. Remove the lid, turn up the heat and cook onions for five minutes or until lightly golden.
Stir in the celery and cook for three minutes. Add the mustard and season to taste.
Lay two of the wraps on a board. Divide the onion mixture between them, layer over the potatoes and crumble over the cheese. Spread the yoghurt over the remaining wraps and place yoghurt side down on top.
Heat half of the remaining olive oil in a large, non-stick frying pan. Add one quesadilla to the pan and cook for 4-5 minutes. Lift the underneath to check if it is looking golden – turn it over or give it a little more time if needed.
Using a large fish slice, carefully flip over and cook the other side, pressing down with the slice. When golden on both sides, slide it out of the pan and keep warm in the oven. Add a little more oil to the pan and cook remaining quesadilla as before.
Cut each into quarters and serve with a lightly dressed watercress salad.
Print Recipe
www.missiondeli.com
Did you make this recipe?
Share your creations by tagging @livegreenandgood on Instagram with the hashtag #livegreenandgood