Griddled Courgette, Broad Bean and Feta Salad
Serves: 4
Ready in: 15 to 30 mins
Know your nutrients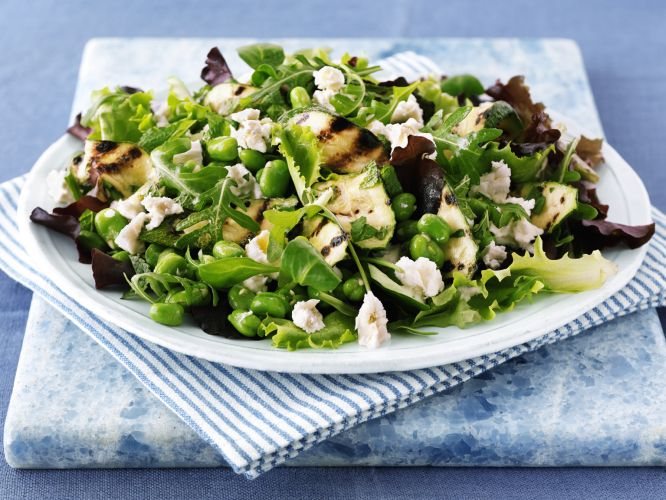 Ingredients:
130g bag Italian style leaves
4 small courgettes,
1 tbsp olive oil
225g podded broad beans fresh or frozen
150g veggie feta cheese, crumbled

[hd]For the dressing[/hd]
3 tbsp olive oil
2 tbsp white wine vinegar
1 garlic clove, halved
1/2 tsp Dijon mustard
1/2 tsp caster sugar
3 tbsp chopped fresh mint
method:
1 For the dressing, place all the ingredients in a bowl with seasoning and whisk well.
2 Heat a griddle pan. Thinly slice the courgettes lengthways, then toss in olive oil and seasoning. When the griddle is hot, add the courgettes in batches cooking them for two minutes each side until charred. Set aside to cool slightly.
Cook the broad beans in boiling salted water for three minutes until they are just tender. Drain, rinse in cold water, then drain again. Slip the tough jacket off each bean.
Empty the salad leaves into a large bowl, scatter over the beans, feta cheese and courgettes. Remove the garlic from the dressing and discard. Toss the dressing through and serve.
Print Recipe
www.salad-recipes.co.uk
Did you make this recipe?
Share your creations by tagging @livegreenandgood on Instagram with the hashtag #livegreenandgood