Potato Gnocchi with Watercress Pesto
Serves: 4
Ready in: 60 mins +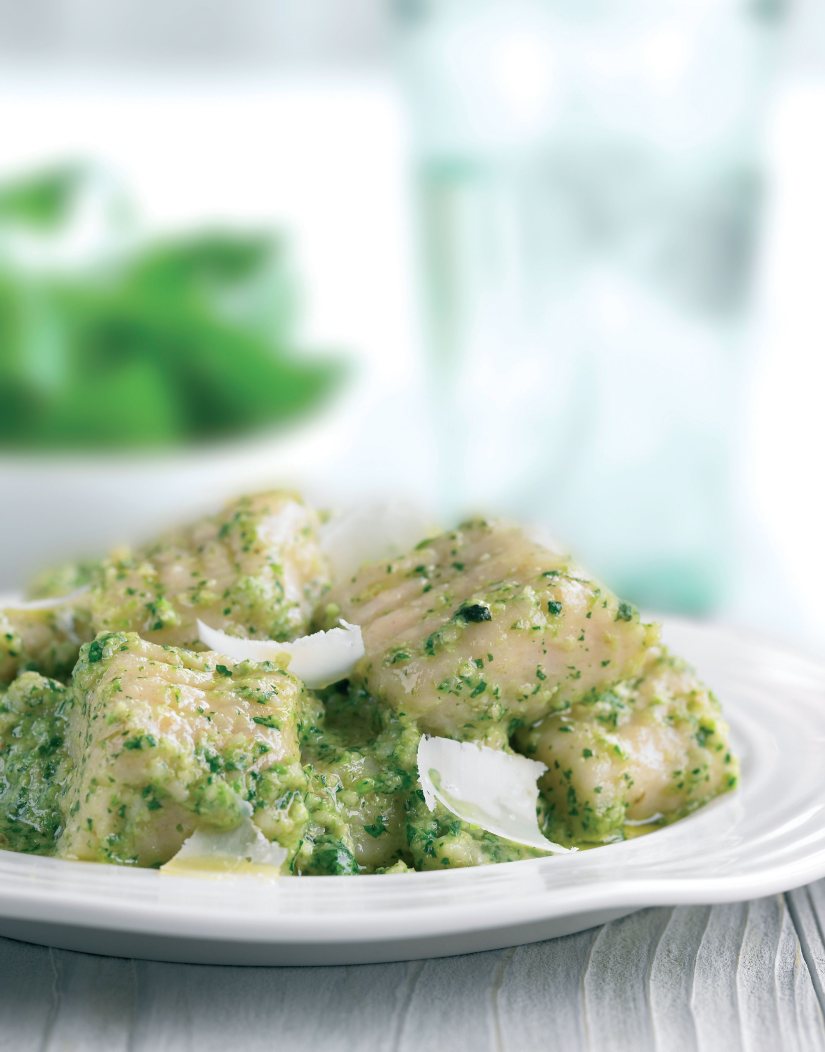 Ingredients:
900g floury potatoes, peeled
200g plain flour
1 medium free-range egg, lightly beaten
For the Watercress Pesto
1 bunch watercress, washed
2 garlic cloves
1 tsp coarse sea salt
40g shelled walnuts
90ml Filippo Berio Extra Virgin Olive Oil
25g vegetarian Parmesan-style cheese,
grated, plus extra for serving
1 tbsp vegetarian soft goat's cheese
method:
Cut the potatoes into even-size pieces, then cook in lightly salted water, for 15 minutes until tender; drain very well.
While the potatoes are cooking prepare the watercress pesto. Trim stalks from watercress, dry on kitchen paper, reserve a few sprigs for garnish. Then put the rest into a food processor with the garlic, salt and walnuts and pulse until finely chopped. Add the oil and cheeses and give a quick whizz until blended.
Drain the potatoes very well then push through a potato ricer into a bowl, as the mash needs to be completely lump-free and have a dry texture. Add the flour and egg with seasoning and work with a fork to form a smooth, soft dough.
With floured hands take a piece of the dough and roll it into a roll about 2cm in diameter, then place on a floured surface and cut into 2cm lengths. Gently press one side with a fork to make a ridged surface. Place the gnocchi on a floured tray until ready to cook.
When all the dough has been shaped, bring a large pan of salted water to the boil. Gently add the gnocchi, and poach a few at a time for 2-3 minutes; as they rise to the surface remove with a slotted spoon and drain. Slide them into a hot serving dish.
Add the prepared pesto and mix together, serve scattered with vegetarian Parmesan-style cheese and the reserved watercress leaves.
Print Recipe
www.filippoberio.co.uk
Did you make this recipe?
Share your creations by tagging @livegreenandgood on Instagram with the hashtag #livegreenandgood