Gingerbread Men
Serves: 10
Ready in: 30 to 60 mins
"Making gingerbread men is perhaps my favourite Christmas activity. The scent of the dough makes me so happy and I love getting creative with the icing designs. These will keep for a couple of weeks (theoretically) so make great gifts too." Recipe makes 20 gingerbread men. Great British Vegan by Aimee Ryan of Wallflower Kitchen is published on 5th January, 2021. White Lion Publishing, £20.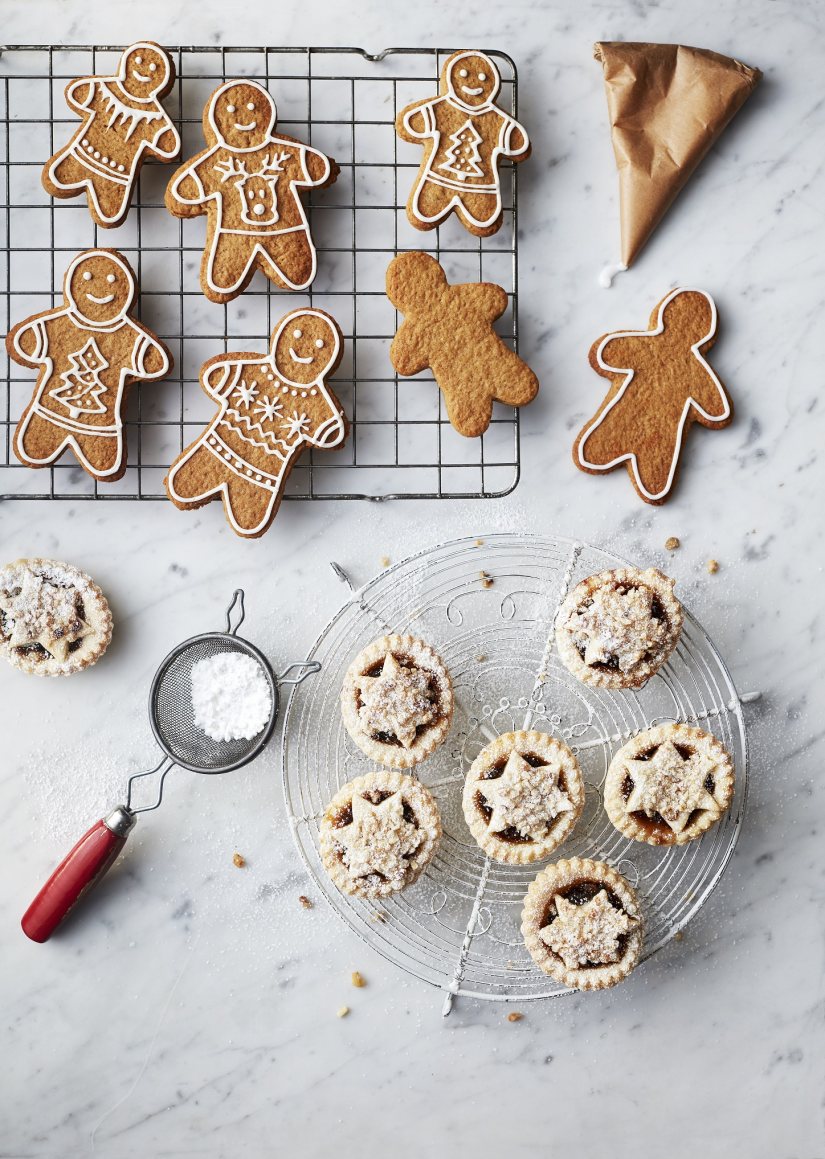 Ingredients:
150g dairy-free butter 120g dark muscavado sugar 60g golden syrup (or light corn syrup) 375g plain (all-purpose) flour, plus extra if needed and for dusting 1 tsp bicarbonate of soda (baking soda) 2 tsp ground ginger 1 tsp ground cinnamon ½ tsp ground mixed spice
For the icing:
135ml aquafaba 500g icing (confectioner's) sugar, plus extra if needed 1 tsp vegetable glycerine
method:
In a small saucepan, gently melt the butter, sugar and golden syrup together on a low heat.
In a large bowl, stir the flour, bicarbonate of soda and spices together. Pour the melted butter mixture into the bowl and mix well to form a dough, adding a little more flour if it is too sticky. You should have a smooth, soft dough. Wrap in greaseproof paper and chill in the fridge for at least 30 minutes to firm up.
Preheat the oven to 180C/350F/Gas 4, and line two baking sheets with greaseproof paper. Lightly dust a surface with flour and roll out the dough to approximately ½cm/¼in thick. Cut out your gingerbread men with a cookie cutter and transfer to the prepared baking sheets, allowing enough room for the biscuits to expand in the oven. Bake for 12 minutes, until golden, then allow the gingerbread to cool completely on a wire rack.
To make the icing, put the aquafaba in a large mixing bowl and whisk with an electric hand whisk or stand mixer until foamy. Sift in the icing sugar, a little at a time, and continue to mix for about 10 minutes, until all the sugar is incorporated and the mixture is thick and glossy.
Add the glycerine and keep whisking until soft peaks are formed. It should now be a pipeable consistency. If you need to make it thicker, add more sugar. Transfer to a piping bag and use immediately or store in an airtight container in the fridge for up to four weeks. Once the cookies are cool, fill a piping bag with the royal icing and decorate as you wish. Store for up to two weeks in an airtight container.
Print Recipe
wallflowerkitchen.com/
Did you make this recipe?
Share your creations by tagging @livegreenandgood on Instagram with the hashtag #livegreenandgood