Free-From Scones for Wimbledon
Serves: 8
Just like Pimms and lemonade, scones, cream and jam are a summer essential, especially when Wimbledon is on - a British tradition! But if you eat a free-from diet and don't have refined sugar, these delicious scones are the perfect (and healthier!) treat without missing out. Enjoy outside in the sunshine if we're lucky!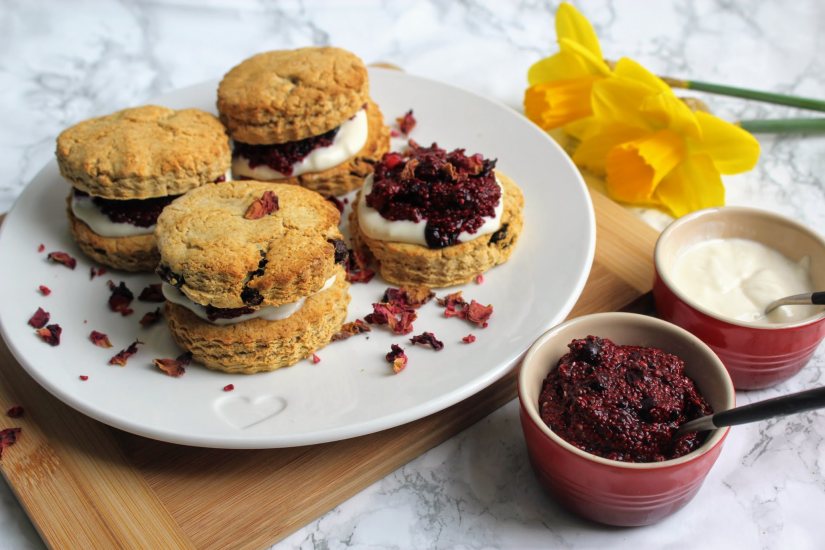 Ingredients:
350g Indigo Herbs brown rice flour
1 teaspoon baking powder
1 teaspoon bicarbonate of soda
90g Indigo Herbs coconut oil (solid)
1 teaspoon cinnamon
75g dried cherries, sultanas or raisins
120ml almond milk
50ml Indigo Herbs maple syrup
½ teaspoon apple cider vinegar
1 teaspoon vanilla extract
Extra almond milk, to brush over
For the berry jam -
150g mixed berries
4 tablespoons Indigo Herbs chia seeds
4 tablespoons Indigo Herbs stevia powder
For the cream -
1 x can coconut milk, chilled in the fridge overnight
3 tablespoons Indigo Herbs maple syrup
1 teaspoon vanilla extract
method:
First make the scones: Preheat the oven to 180 degrees C and line a large baking sheet with greaseproof paper.
Mix together the flour, baking powder, bicarbonate of soda and cinnamon in a bowl.
Rub in the solid coconut oil until you have a breadcrumb mixture then stir in the dried cherries, sultanas or raisins.
Whisk together the milk, maple syrup, apple cider vinegar and vanilla then pour into the dry ingredients. Stir well to combine and form a soft dough.
Flour a surface and roll out the dough to 4cm thickness. Use a cutter to cut out about 8 scones and arrange on the tray. Brush each with a little extra milk.
Bake for 12-15 minutes until golden and firmed up. Leave to cool.
Meanwhile make the chia jam: Heat the berries in a pan with 2 tablespoons of water for 5 minutes until softened then mash gently with a fork. Remove from the heat and stir in the stevia and chia seeds. Mix well and set aside for at least 30 minutes to form a jam.
Scrape out the solid part of the coconut cream from the can and spoon into a bowl along with the maple syrup and vanilla. Use an electric whisk to whip until quite thick. Transfer to a small dish and chill until needed.
When ready to serve, spread some jam and coconut cream onto a scone and enjoy - try them warmed up!
Print Recipe
www.indigo-herbs.co.uk/recipe
Did you make this recipe?
Share your creations by tagging @livegreenandgood on Instagram with the hashtag #livegreenandgood