Creamy Quinoa Mushroom Risotto
Serves: 4
Ready in: 30 to 60 mins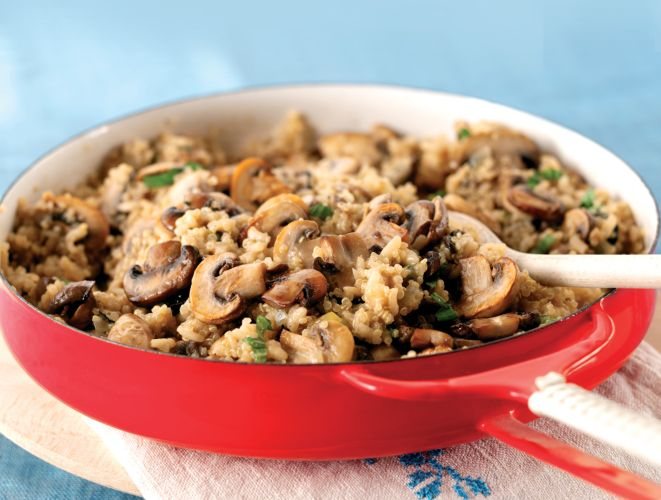 Ingredients:
15g dried mushrooms, soaked in 300ml boiling water for 10 mins
900ml vegetable stock
2 tbsp olive oil
200g white closed cup mushrooms, sliced
200g brown closed cup mushrooms, sliced
1 onion, chopped
2 garlic cloves, crushed
175g quinoa
175g risotto rice
100ml vegetarian dry white wine
25g freshly grated vegetarian Parmesan-style cheese
2 tbsp snipped fresh basil leaves
method:
Drain the soaked mushrooms, placing the liquid in a large pan, and chop them. Add the stock to the pan too and slowly bring to a gentle simmer.
Heat half the oil in another large pan, add the mushrooms and sauté over a high heat for 2-3 minutes until golden brown. Transfer to a plate and set aside.
Add the remaining oil to the pan, add the onion and sauté for 2-3 minutes. Add the chopped dried mushrooms, garlic, quinoa and rice and stir for 30 seconds. Add the wine and gently simmer, stirring until evaporated.
Add a ladleful of hot stock and cook, stirring until absorbed. Repeat until the rice is tender and the stock has all been used (15-20 minutes). Stir in the reserved mushrooms, cheese and basil, then serve.
Print Recipe
www.moretomushrooms.com/
Did you make this recipe?
Share your creations by tagging @livegreenandgood on Instagram with the hashtag #livegreenandgood