CHOCOLATE ORANGE & HAZELNUT QUINOA PORRIDGE
Serves: 2
Gluten Free‏ Quick Make Vegan Friendly
This porridge recipe is made with quinoa flakes as well as the traditional oat flakes for that extra protein rich boost! Flavoured with a classic chocolate orange combo, sweetened with apricots and topped with hazelnut butter makes this oatmeal breakfast bowl a perfect comforting start to the day. Not only is it rich and tasty but it will also slowly release energy throughout the morning. The apricot puree can be made in a batch and kept in the fridge, and it's a great way to sweeten a porridge and avoid sugar, it's also really yummy and the kids will adore it. Why not add a few whole hazelnuts on top?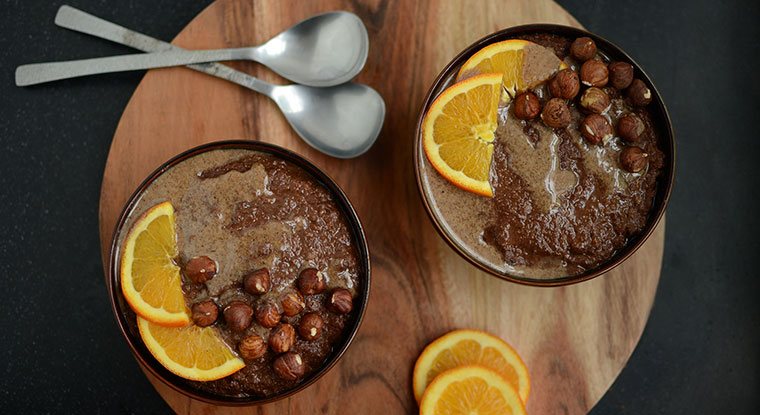 Ingredients:
75g quinoa flakes
85g gluten-free oats
500ml plant milk
¼ tsp cinnamon
zest of half small orange
2tbsp cacao powder
3 tbsp of apricot puree OR 45g dried apricots
1 tbsp agave syrup or similar (optional)
method:
To make the apricot puree soak a handful of dried apricots overnight in enough water to cover them. Without draining, whizz the fruit up in a blender to form a paste. Or you can use whole apricots, by chopping them as small as possible and add them to the mix before cooking.
In a non-stick saucepan add the oats, quinoa, orange zest, cacao cinnamon, and about half of the plant milk.
On a low heat for about 15 mins, slowly heat through the mixture stirring frequently, adding more milk a little at a time as it absorbs as the grains cook.
Add the syrup to taste, and the apricots puree and mix well. Keep adding milk to desired consistency.
Serve immediately with a scoop of hazelnut butter, a handful of whole hazelnuts and a slice of orange on top.
Print Recipe
www.indigo-herbs.co.uk
Did you make this recipe?
Share your creations by tagging @livegreenandgood on Instagram with the hashtag #livegreenandgood