Cauliflower Tikka Masala
Serves: 4
From the CNM Natural Chef Kitchen at the College of Naturopathic Medicine. This cauliflower curry is rich with aromatic spices, sweet tomatoes and creamy coconut. Packed with flavour and nutrition, this is a great winter warmer , perfect served with rice or quinoa.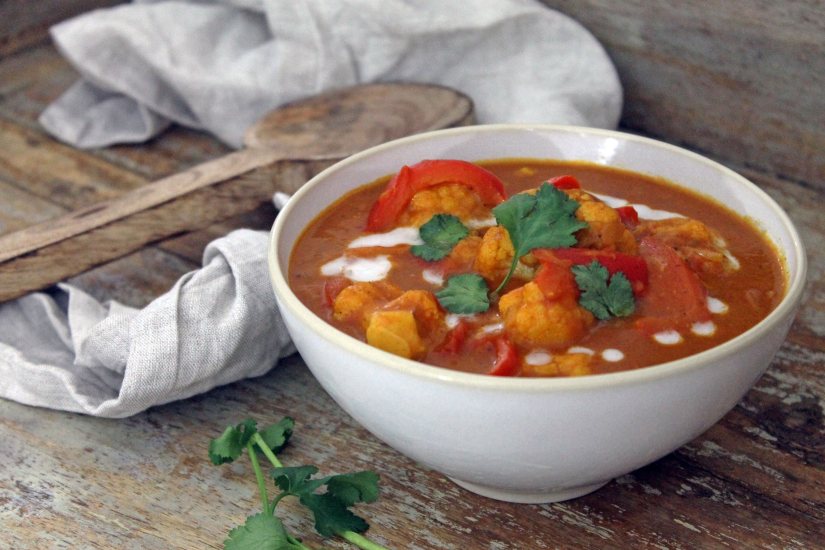 Ingredients:
125g coconut milk yoghurt
10 cherry tomatoes, diced
1 medium cauliflower head, cut into florets
225g passata
1 small white onion, finely chopped
1 large clove of garlic, minced
1 inch of fresh ginger, peeled and grated
1 tablespoon of coconut oil
1 teaspoon of dried coriander
1 teaspoon of ground cumin
1 teaspoon of chilli powder
1 teaspoon of Garam Masala
250ml vegetable stock
½ teaspoon of ground cinnamon
½ teaspoon of ground turmeric
125ml coconut milk
½ large red bell pepper, cut into strips
10g fresh coriander, finely chopped
method:
Heat the coconut oil in a large pan or casserole dish over a medium heat.
Add the onion, garlic and ginger and sweat for a minute or two until tender.
Add all the dried spices and stir well to combine until fragrant.
Add the yoghurt to the pan and stir into the spices until well combined.
Add the passata and diced tomatoes and stir well.
Add the vegetable stock and bring the mixture to a gentle boil. Stir well then reduce to a simmer for 10 minutes uncovered, allowing the sauce to thicken.
Add the cauliflower florets to the pan along with the pepper. Stir well, coating the vegetables in the sauce.
Simmer for 10 minutes or until the sauce has thickened and reduced and the cauliflower is tender.
Drizzle with a little coconut milk and scatter with coriander to serve.
Print Recipe
www.naturopathy-uk.com/naturalchef
Did you make this recipe?
Share your creations by tagging @livegreenandgood on Instagram with the hashtag #livegreenandgood