Cameo Spinach Salad
Serves: 3
Ready in: Under 15 Mins
Cost Cutting Eco Friendly Gluten Free‏ Quick Make Vegan Friendly
If you're looking for a healthy mid-week salad that is dairy-free; this is the perfect recipe. The combination of the apple and the spinach delivers a satisfying crunch, and the dressing has a tangy flavour. If you make a big batch of it, you can have it the next day for lunch!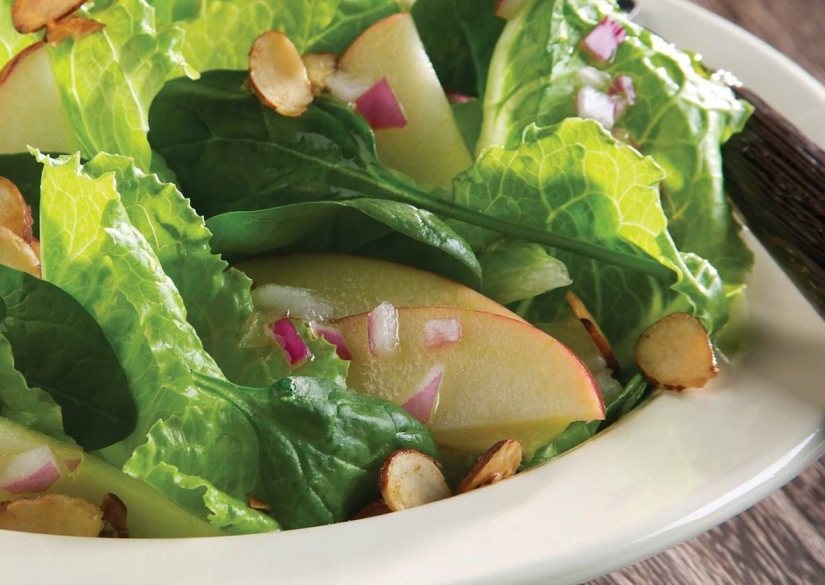 Ingredients:
50g slivered almonds or hazelnuts
2 tbsp sugar
170g baby spinach leaves
1 head romaine lettuce, washed and torn
2 Cameo apples, cored and thinly sliced

[hd]For the dressing[/hd]
¼red onion, finely chopped
6 tbsp apple cider vinegar
6 tbsp olive oil
3 tbsp sugar
1 garlic clove, minced (optional)
¼ tsp salt
⅛ tsp freshly ground black pepper
method:
Place almonds or hazelnuts in a medium frying pan with the sugar. Cook over a medium-high heat for four minutes, or until coated and browned, stirring constantly; then set aside.
Combine the dressing ingredients in a small bowl and stir vigorously. Pour over the spinach, lettuce and apples just before serving and toss. Sprinkle with the sugared almonds.
Print Recipe
www.cameoapples.co.uk
Did you make this recipe?
Share your creations by tagging @livegreenandgood on Instagram with the hashtag #livegreenandgood