Butternut Squash, Vegetarian Chorizo and White Bean Stew
Serves: 6
Ready in: 60 mins +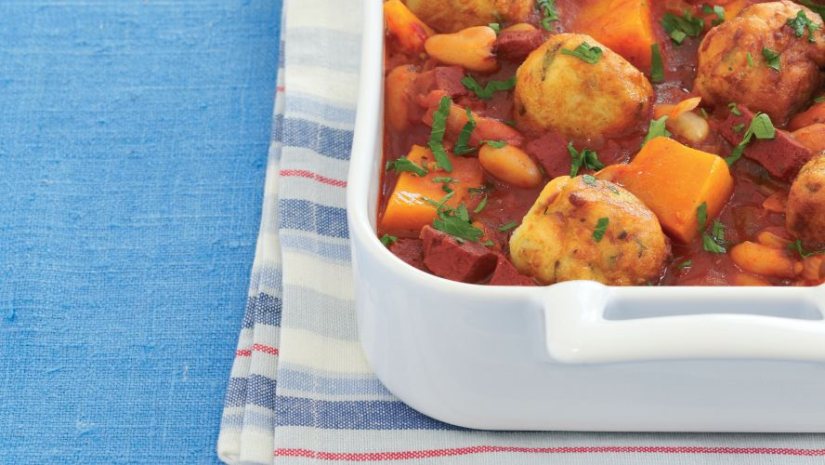 Ingredients:
2 tbsp olive oil
350g butternut squash (or pumpkin or paquito)
1 celery stick, finely chopped
1 onion, finely chopped
3-4 garlic cloves, crushed
50ml vegetarian red wine
250ml vegetable stock
200g passata or tinned tomatoes
3 fresh tomatoes, roughly chopped
400g tin cannellini beans, drained
150g vegetarian chorizo
4 tbsp oregano

[hd]For the dumplings[/hd]
5 tbsp olive oil
250g ricotta cheese
1 free-range egg
70g flour, plus a little extra for dusting
pinch of nutmeg
1 tbsp fresh sage, chopped
2 tbsp flat leaf parsely, chopped
salt and pepper
method:
Preheat the oven to 220C/425F/Gas 7. Add the olive oil to a casserole dish and heat over a moderate heat. Add the onions, garlic, oregano and celery. Sauté until soft but not taking on any colour. Stir in the chorizo and chopped fresh tomatoes and sauté for a further minute.
Pour in the red wine and cook until most of it has evaporated. Then add the pumpkin, vegetable stock, tinned tomatoes and white beans and place in the oven for 40 minutes.
Meanwhile, make the dumplings: combine the ricotta, egg, flour, nutmeg, seasoning and herbs. Mix together to form a dough and then roll using your hands into walnutsized balls, flouring your hands as you go. Heat the oil in a small pan and fry in small batches until golden brown.
Add the dumplings to the stew once it's been in the oven for 40 minutes and then return to the oven to cook for a further 10 minutes before serving.
Print Recipe
www.charlottetolhurst.co.uk
Did you make this recipe?
Share your creations by tagging @livegreenandgood on Instagram with the hashtag #livegreenandgood