Bruno Loubet's Spring vegetable and egg 'cassoulet' with Carrot and Shallots Mustard
Serves: 6
Cost Cutting Eco Friendly Gluten Free‏ Quick Make
"The carrot and shallot mustard binds the dish together and lifts the fresh, garden notes. I usually cook this dish in a large pan and serve it directly on the table"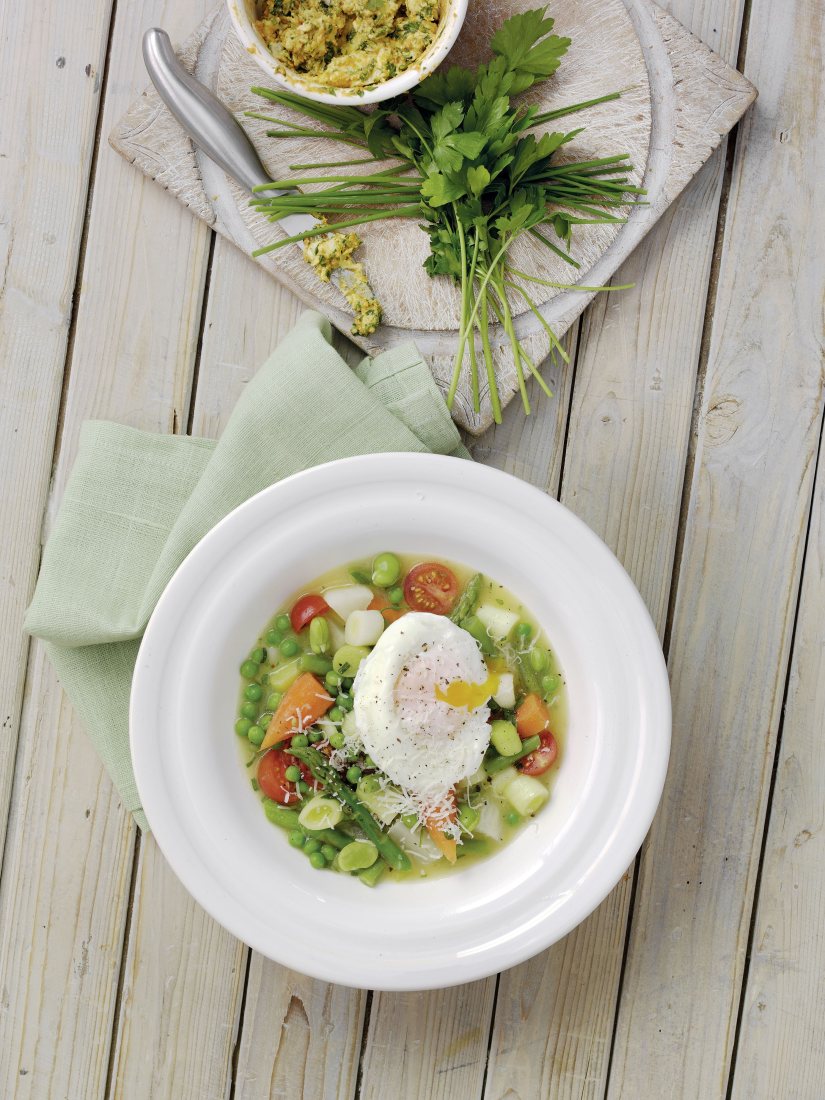 Ingredients:
300g broad beans, shelled
500g peas
12 spring onions, finely cut
12 baby carrots, peeled
12 baby turnips, peeled (or 2 regular turnips, peeled)
12 baby leeks, trimmed
24 on-the-vine cherry tomatoes, sliced in half
2 garlic cloves, finely sliced
200g green beans, cut into 1cm
6 asparagus, cut into 2cm pieces
100g Desiree potatoes, peeled
120g very soft butter
60g Maille Carrot and Shallot Mustard
1 tbsp chervil, finely chopped
2 tbsp chives, finely chopped
1 tbsp parsley, finely chopped
1 tsp tarragon, finely chopped
6 free-range eggs
50g vegetarian Parmesan-style cheese
salt and pepper
method:
Cube the potatoes and boil in salted water until soft. Drain and mash with a potato masher or mouli and keep to one side.
Boil a pan of salted water and cook the carrots for about 5-6 minutes. Remove from the water and replace with the turnips. After 6-8 minutes, remove from the water and replace with the leeks. Cook for only a couple of minutes and drain.
In a bowl, mix well the soft butter, herbs, mustard and seasoning.
Pour 300ml of water in a large pot, bring to the boil and add the carrots, turnips, garlic and the young green beans. Boil for a couple of minutes and add the mashed potatoes and the remaining vegetables.
Stir and simmer for 2-3 minutes, then remove from the heat and add the mustard, herb and butter mixture. Stir well until the mix is completely incorporated.
Poach the eggs when you are ready to serve. Serve the "ragout" in bowls at the table, place a poached egg on top and sprinkle with Parmesan-style cheese.
Print Recipe
www.maille.com/en_GB/
Did you make this recipe?
Share your creations by tagging @livegreenandgood on Instagram with the hashtag #livegreenandgood