British Tomato, Beetroot and Watercress Salad
Serves: 2
British Tomato Fortnight kicks off this month, from 21st May to 3rd June. We are often blinded to the fact that British tomatoes are just as delicious as their exotic Mediterranean cousins, and they are abundant at this time of year. What's more, buying British means fewer miles travelled by tasty toms, so it's a massive win for the planet! This tomato, beetroot and watercress salad is bursting with goodness and ready in just 20 minutes- a real life-saver at the end of a busy day!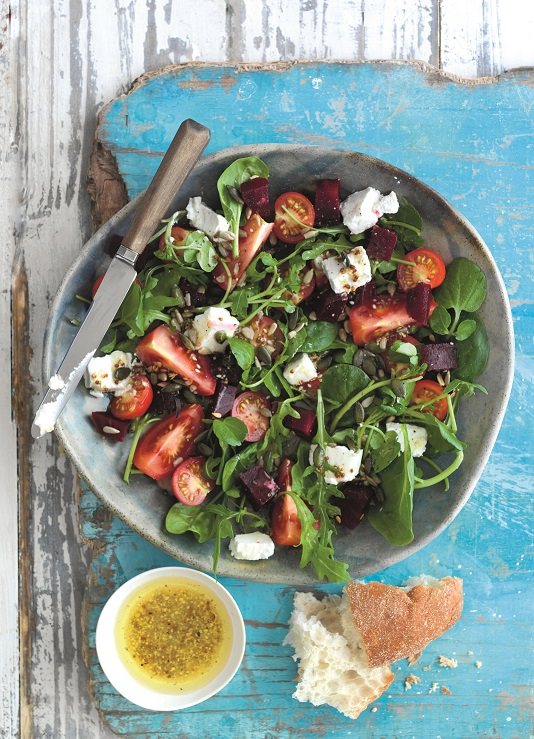 Ingredients:
2 British large vine tomatoes
12 British Piccolo tomatoes
80g bag watercress, spinach and rocket salad
2 beetroots, cooked and chopped
100g soft goat's cheese
2 tbsp mixed seeds (pumpkin, sunflower and sesame)
2 tbsp walnut oil or olive oil
1 tbsp lemon juice
1 tsp wholegrain mustard
A pinch of caster sugar, salt and pepper
method:
Slice the British vine tomatoes into wedges, and halve the Piccolo tomatoes.
Share the watercress, spinach and rocket between two serving plates and arrange the tomatoes and beetroot on top. Crumble the goat's cheese over the salads.
Toast the seeds in a dry frying pan for 1-2 minutes, then scatter them over the salads.
For the dressing, mix together the oil, lemon juice and mustard with a pinch of sugar, salt and pepper. Drizzle over the salads, then serve.
Print Recipe
www.britishtomatoes.co.uk/
Did you make this recipe?
Share your creations by tagging @livegreenandgood on Instagram with the hashtag #livegreenandgood