Beetroot and Lentil Lasagne
Serves: 8
Ready in: 60 mins +
Know your nutrients
Healthy beetroot brightens up this vegan lasagne recipe, which packs in flavour with lentils, plenty of green veg, dried herbs, passata, red wine and smoky vegan cheese. Recipe extracted from Vegan(ish) by Jack Monroe (Bluebird, £16.99).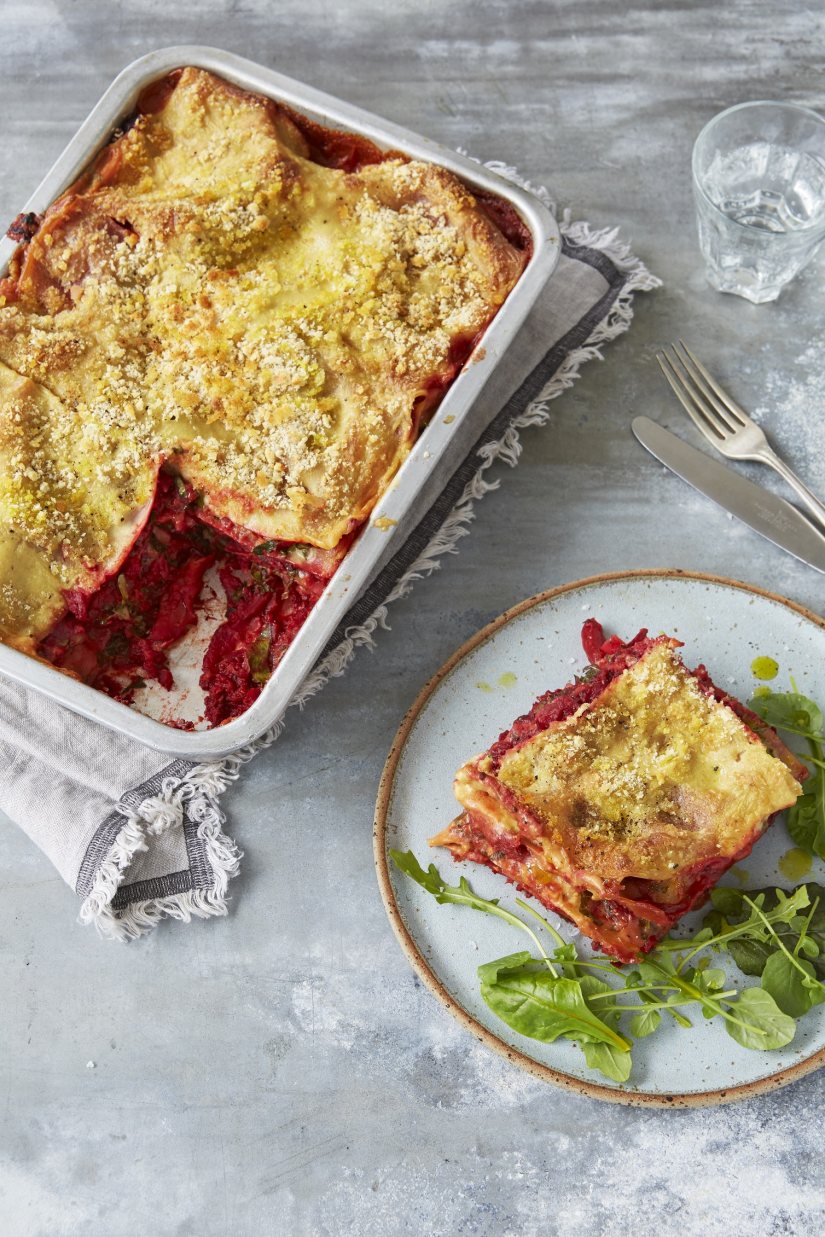 Ingredients:
250g dried red lentils
1 litre vegetable stock
1 large onion
1 fennel bulb (or 1 extra onion or 1 leek)
6 fat garlic cloves
1 tbsp cooking oil
a pinch of salt
2 large raw beetroots
2 x 400g cartons passata (or tins of chopped tomatoes)
250ml red wine
2 tsp mixed dried herbs
1 box lasagne sheets
500ml smoky vegan 'cheese' sauce (see below)
200g greens, finely chopped (kale, spinach or chard are best)
2 tbsp breadcrumbs rocket or green leaves, to serve (optional)
For the Smoky Vegan 'Cheese' Sauce:
4 tbsp plain flour
4 tbsp light cooking oil
800ml vegan 'milk'
4 slices Violife Smoked-flavour 'cheese'
8 tbsp nutritional yeast flakes
1 tsp English mustard
salt and black pepper, to taste
method:
Rinse your lentils thoroughly to reduce the amount of scum that accumulates when they cook. Pop them into a pan with the stock, or the same volume of water. Don't add salt. Bring to the boil, then simmer for 20 minutes, until soft.
In a separate pan, cook the veg. Finely slice the onion and fennel, and peel and finely chop the garlic. Transfer to a large non-stick frying or sauté pan with the oil and salt. Grate the beetroots – or blitz them in a small blender or food processor – and add to the pan. Cook low and slow for 20 minutes, while the lentils simmer
When the lentils are swollen and the veg is soft, drain and rinse the lentils to get rid of any scum, and tip them into the veg pan. Cover with the tomatoes and wine, add the herbs and bring to the boil. Reduce to a simmer and cook for a further 20 minutes to combine. Preheat the oven to 180C/350F/Gas 4.
Spread a 1cm layer of the beetroot-lentil mixture on the bottom of a 20cm x 30cm ovenproof dish or roasting tray. Lay enough lasagne sheets over the top to cover. Top with a thin layer of 'cheese' sauce, then the finely chopped greens. Repeat until all of the mixture is gone or the dish is full; usually around four layers of pasta sheets. Finish with a layer of 'cheese' sauce, and sprinkle with breadcrumbs.
Bake on the centre shelf of the oven for 40 minutes, or until the pasta is soft and a knife inserted into the centre goes through easily. Serve piping hot.
To make the vegan cheese sauce, make a roux by mixing the flour and oil together in a medium, heavy-bottomed saucepan. Add a splash of 'milk' – around three tablespoons – then bring to a low heat, mixing well. Add a splash more 'milk' and repeat until half the 'milk' is incorporated. Add the smoked 'cheese' slices and turn up the heat to medium – it's important not to boil it as plant-based 'milks' can spoil. Cook for 10-12 minutes, stirring intermittently, until the 'cheese' slices melt completely. Stir in the nutritional yeast flakes and mustard, and season well with salt and pepper. Add the remaining 'milk' gradually to thin the sauce to your desired consistency, and serve.
Print Recipe
cookingonabootstrap.com/
Did you make this recipe?
Share your creations by tagging @livegreenandgood on Instagram with the hashtag #livegreenandgood