Beetroot and Goats' Cheese Tartlet
Serves: 4
Ready in: 30 to 60 mins
Make Valentine's even more special this year with this flavourful starter option.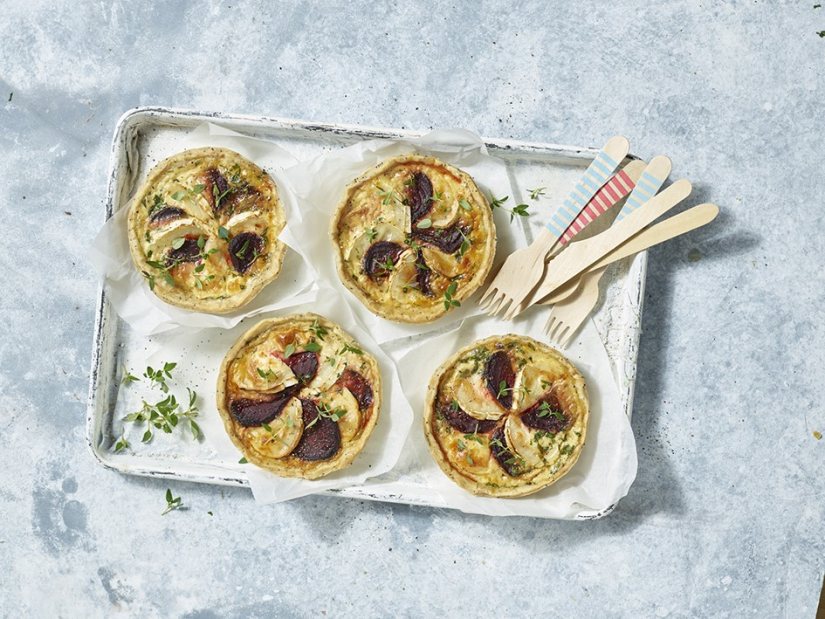 Ingredients:
For the pastry:
300g plain flour
¼ tsp salt
75g chilled butter, cut into pieces
75g white vegetable fat (eg. Trex), cut into pieces
1 tbsp poppy seeds
For the filling:
200g beetroot (vacuum-packed, not in vinegar), sliced
125g goats' cheese, sliced
2 free-range eggs, beaten
150ml milk
salt and freshly ground black pepper
1 tsp fresh thyme or parsley, chopped, plus sprigs to garnish
method:
Preheat the oven to 200C/400F/Gas 6. Sift the flour and salt into a large bowl. Rub in the butter and white vegetable fat with your fingertips until the mixture looks like fine crumbs. Add the poppy seeds, then stir in just enough chilled water to make a soft, but not sticky, dough. Knead for a few moments, then wrap and chill for 10-20 minutes.
Roll out the pastry on a lightly floured surface and use it to line four loose-base tartlet tins. Line with greaseproof paper and baking beans or crumpled foil, and bake 'blind' for 10-12 minutes
Take the tart cases from the oven and remove the paper and baking beans or foil. Reduce the oven temperature to 180C/350F/Gas 4.
Arrange the beetroot and goats' cheese in the pastry cases. In a bowl, beat together the eggs and milk. Season and add the chopped thyme or parsley. Pour the mixture into the tart cases, then bake for 20 minutes, until set. Serve warm or cold, garnished with thyme or parsley sprigs.
Print Recipe
www.lakeland.co.uk
Did you make this recipe?
Share your creations by tagging @livegreenandgood on Instagram with the hashtag #livegreenandgood