You'll Love These Tasty Tomato Recipes
We've teamed up with Cherry Tomato Piccolo to bring you these delicious mid-week wins
ADVERTISEMENT FEATURE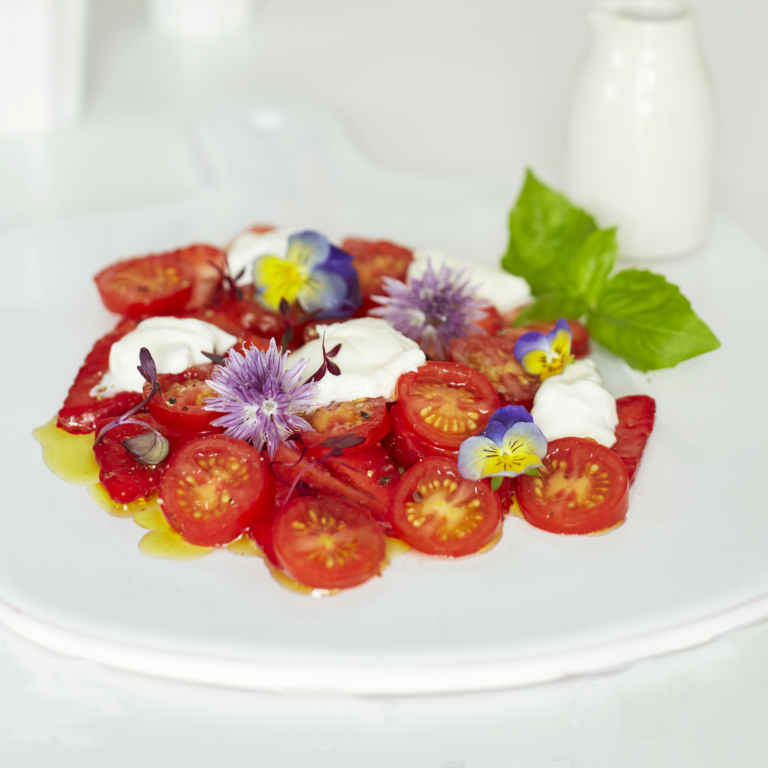 Just crunchy enough, superbly smooth, with succulent sweetness and mellow juiciness, say hello to the Cherry Tomato Piccolo. With all the fragrance and flavour of a summer's day, these tasty tomatoes bring a natural sweetness to these delightfully simple low-carb dishes.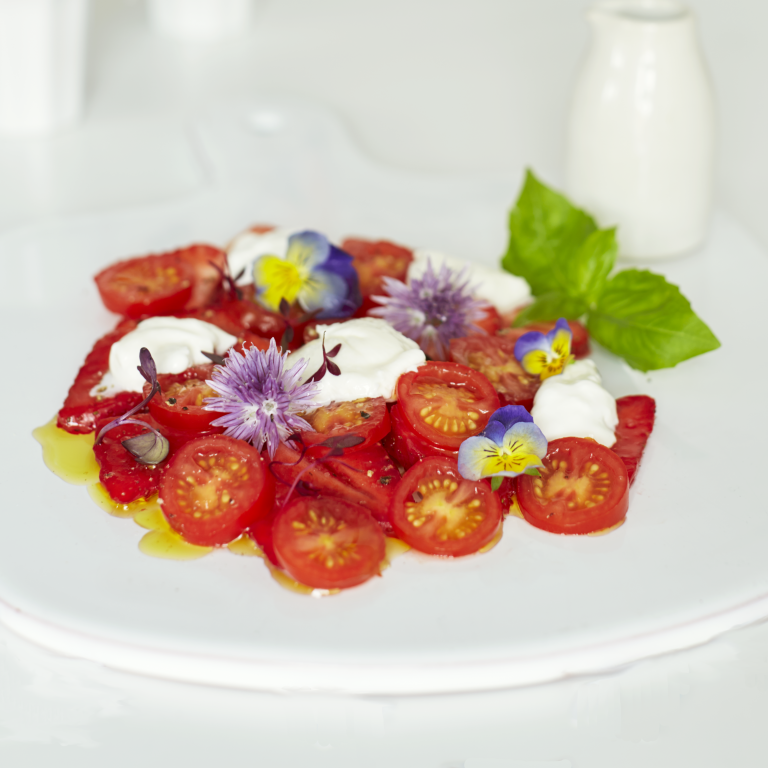 Piccolo Cherry Tomato and strawberry carpaccio with burrata
Serves 4
Ingredients for the strawberry vinegar:
200g strawberries, hulled and quartered
230ml raw unfiltered apple cider vinegar
1 tsp granulated sugar

Ingredients for the carpaccio:
300g Piccolo Cherry Tomatoes
200g strawberries, hulled and sliced
Salt and freshly ground black pepper
Extra virgin olive oil
320g burrata, drained
Fresh edible flowers and basil leaves, to serve
Method:
1. For the strawberry vinegar, place the strawberries in a large kilner jar or large glass bowl. Pour over the apple cider vinegar and stir through the sugar. Cover and leave overnight, for up to 24 hours. Strain the vinegar through a clean muslin cloth or a coffee filter and store in a sterilised glass container. The vinegar will keep for about a month.
2. For the carpaccio, slice the cherry tomatoes and strawberries, and arrange on a serving plate. Season with salt, freshly ground black pepper, and drizzle over a little extra virgin olive oil and some of the strawberry vinegar.
3. Carefully tear the burrata into pieces and top the tomatoes and strawberries with it. Garnish with fresh edible flowers and basil leaves. Serve.
TIP Keep and use any leftover strawberry vinegar over salads!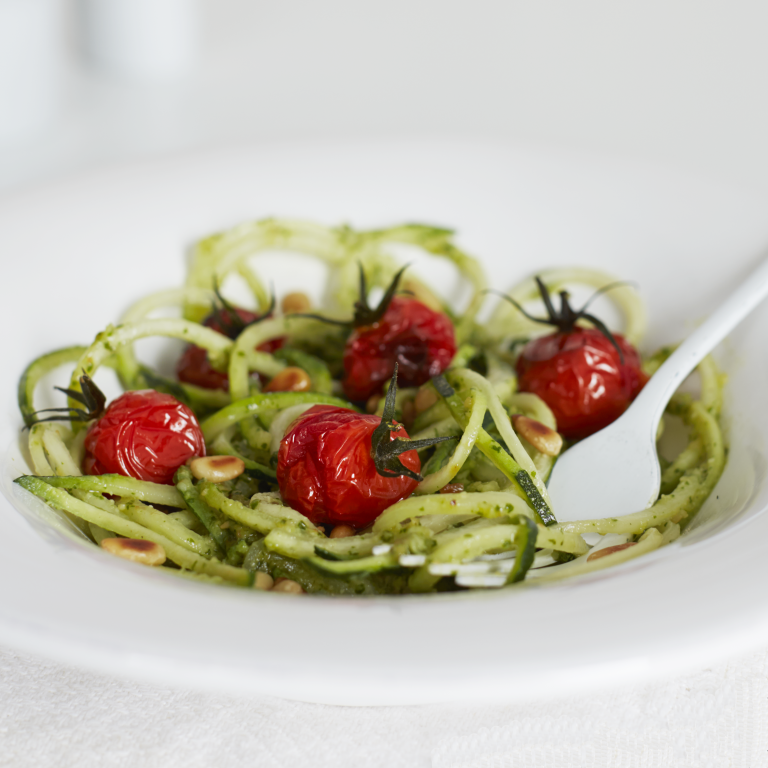 Courgetti with roasted Piccolo Tomatoes, pesto and pine nuts
SERVES 4
Ingredients for the roasted tomatoes:
2 tbsp olive oil
1 garlic clove, thinly sliced
2 sprigs fresh oregano
1 punnet Piccolo Cherry Tomatoes
Ingredients for the pesto:
60g pine nuts
50g parmesan cheese, grated
1 small garlic clove, roughly chopped
Large bunch basil
Extra virgin olive oil
1 tbsp freshly squeezed lemon juice
Salt, to taste

Ingredients for the courgetti:
4 courgettes
30g pine nuts, to serve
Extra virgin olive oil, to serve
Method:
1. For the roasted tomatoes, preheat the oven to 150C/Gas Mark 2 (fan). Drizzle the olive oil over a large baking tray, scatter the garlic and place the oregano branches on the oil. Cut the Piccolo Cherry Tomatoes off the vine, retaining the stem on some of them for pretty presentation. Tip them, whole, onto the baking tray, brush with the oil in the tray and cook for about 90 minutes. Remove from the oven and set aside.
2. For the pesto, heat a small frying pan and dry fry the pine nuts until browned. Tip the pine nuts into a food processor and pulse a couple of times. Add the parmesan and garlic and pulse again. Pick the basil leaves and add them to the food processor, along with a generous glug of olive oil. Pulse a couple of times and add more olive oil for a smoother finish. Add the lemon juice and salt, to taste, to finish. Set aside.
3. For the courgetti, spiralise the courgettes using a spiralizer according to manufacturer's instructions. Dry fry the pine nuts used for serving until lightly browned. Flash fry the courgetti in a splash of oil for a minute, until softened slightly. Stir in the pesto and serve topped with the roasted Piccolo Cherry Tomatoes and pine nuts. Drizzle over a little extra virgin olive oil, to serve.
Meet the Cherry Tomato Piccolo. You will be delighted by its natural elegance and intense aroma, subtle sweetness and balance of flavour. Even better, they're good for you! Tomatoes are naturally low in calories and high in hydration. Plus, various vitamins and a mixture of minerals will give your body a health boost. Cherry Tomato Piccolo is available from a range of different retailers and growers. To ensure excellence, always check the variety name mentioned on the packaging.
For more, find the team on Instagram, @piccolocherrytomato.
More from Vegetarian blog