What to cook tonight: No-beef tacos
Serves: 4
Ready in: 15 to 30 mins
A delicious, fuss-free weeknight supper.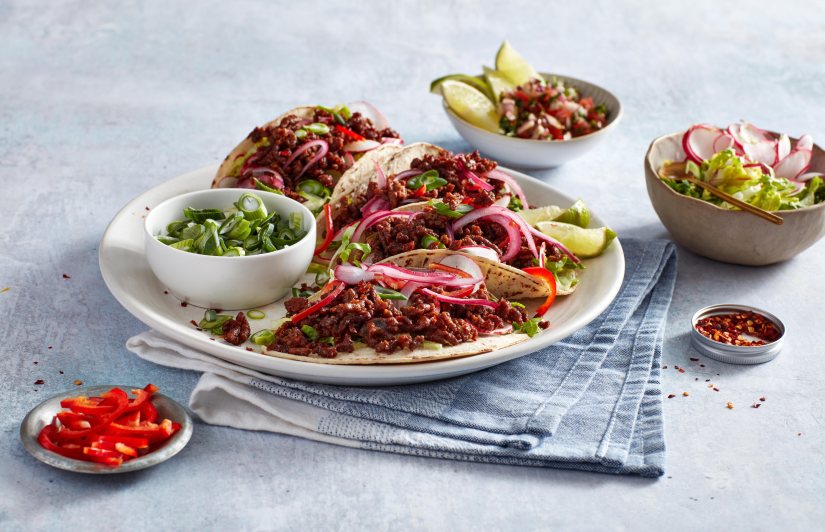 Ingredients:
500g Dopsu No-Beef Mince
8 soft shell corn tortillas
6 Spring onions
1 red pepper, thinly sliced
Half a lime, cut in thin wedges

For the spicy salsa

Half a red onion, chopped
Half a red chilli, chopped
Pinch of salt
25g taco seasoning
1 red onion, thinly sliced
6 radishes, thinly sliced
Half an iceberg lettuce, shredded
Coriander leaves to garnish
2 tomatoes, skinned, deseeded and diced
2 tbsp fresh coriander, chopped
1 tbsp olive oil
method:
Sprinkle the taco seasoning over the Dopsu No-Beef Mince. Set to one side.
Mix the salsa ingredients together and season with the salt.
In a frying pan, fry the spiced mince until it has a little colour, being careful not to burn the spices.
Griddle the soft shells and keep warm.
Arrange all the ingredients on a board and serve.
Print Recipe
dopsu.com/
Did you make this recipe?
Share your creations by tagging @livegreenandgood on Instagram with the hashtag #livegreenandgood