Vegan Vanilla Cupcakes With Cashew Buttercream Frosting
Serves: 12
Ready in: 30 to 60 mins
These vegan vanilla cupcakes are frosted with a yummy vegan buttercream that makes them look super-cute with its pop of pastel blue. To top it all off (pun intended), there's nothing better than a bunch of your favourite popcorn for something more unique and extra sweet. This uses a mix of Popcorn Shed's Mini Pop! Sea Salt flavour and Pecan Pie gourmet popcorn (the latter isn't vegan, so you can simply omit it, or swap it out for your favourite vegan version). Recipe created by Gemma Gonzalez, author of the blog Cinnamon Girl.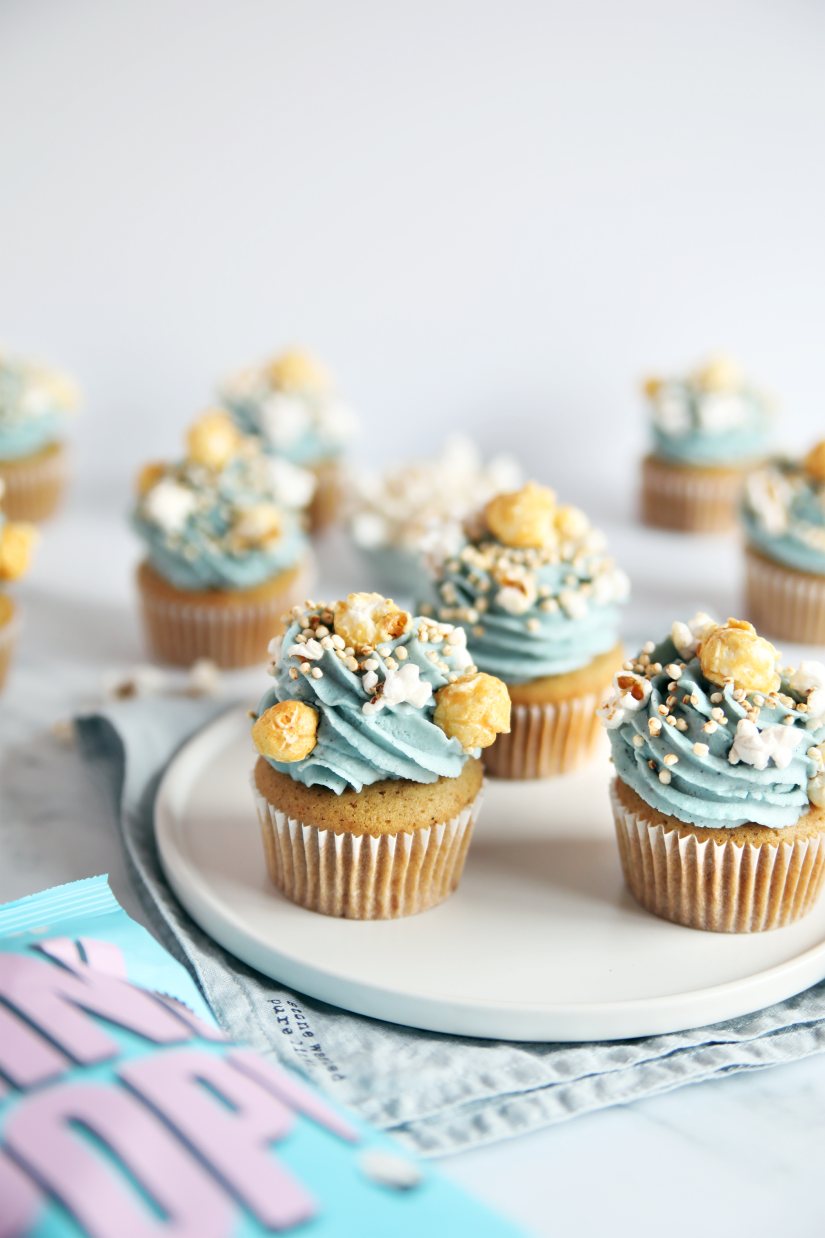 Ingredients:
For the cupcakes:
1 ¼ cups spelt flour, sifted
2 tbsp potato starch
1 tsp psyllium husk powder
½ tsp pure vanilla powder
¾ tsp baking powder
½ tsp baking soda
½ tsp pink Himalayan salt
235ml unsweetened almond milk
1 tsp apple cider vinegar
80ml mild-tasting extra virgin olive oil
100g raw cane sugar
For the cashew buttercream frosting:
180g raw cashews, soaked overnight in 450ml water with a pinch of salt
113ml unsweetened almond milk
88g agave syrup
¼ tsp pure vanilla powder
1 tbsp lemon juice
a small pinch of salt
170ml coconut oil, melted
3 tbsp cacao butter, melted
blue spirulina powder (natural food colouring), optional
method:
Preheat oven to 180C/350F/Gas 4, and line a 12-cavity cupcake pan with paper liners.
Start by making the cupcakes. In a large mixing bowl, sift together the spelt flour, potato starch, psyllium husk powder, vanilla powder, baking powder, baking soda and a small pinch of salt. Mix with a wire whisk until combined, then set aside.
In a separate bowl, vigorously whisk the milk, apple cider vinegar, olive oil and cane sugar. Pour this wet mixture into the bowl with the dry ingredients, and mix until no large lumps remain.
Fill cupcake liners two-thirds full (so they rise evenly) and bake for 20-22 minutes. Carefully unmould and transfer to a cooling rack so they cool completely.
To make the cashew buttercream frosting, rinse your soaked cashews well and place them into a high-speed blender or food processor with the almond milk. Blend really well until you get a smooth cream with no lumps – you might need to stop and scrape the sides of the blender jug or bowl a few times.
Add in the agave syrup, vanilla powder, lemon juice and salt. Blend again until completely combined, then gradually pour in the melted coconut oil and cacao butter. The buttercream should look smooth and creamy. Finally, add in a small amount of blue spirulina powder until you get a nice pastel-blue tone.
Transfer the cashew buttercream to an airtight container, cover the surface with plastic wrap, put the lid on and refrigerate until the cream sets and thickens. If it's too hard right before frosting the cupcakes, let it come up to room temperature until it has a pipeable consistency.
Frost your cupcakes with the blue buttercream, top with Popcorn Shed's Mini Pop! Sea Salt popcorn, gourmet Pecan Pie popcorn (if you're not vegan) and puffed quinoa. Store the cupcakes covered in the fridge.
Print Recipe
popcornshed.com/
Did you make this recipe?
Share your creations by tagging @livegreenandgood on Instagram with the hashtag #livegreenandgood