Tofu Chowder
Serves: 6
Ready in: 15 to 30 mins
Eco Friendly Freezes Well Gluten Free‏ Quick Make Vegan Friendly
Chowder is a traditional recipe from New England, USA and is a delicious dish somewhere between a soup and stew – very filling! Often made with clams, this seafood-free variation is a great alternative. Kombu and nori, two varieties of sea vegetable, add a gentle taste of the ocean as well as providing important nutrients"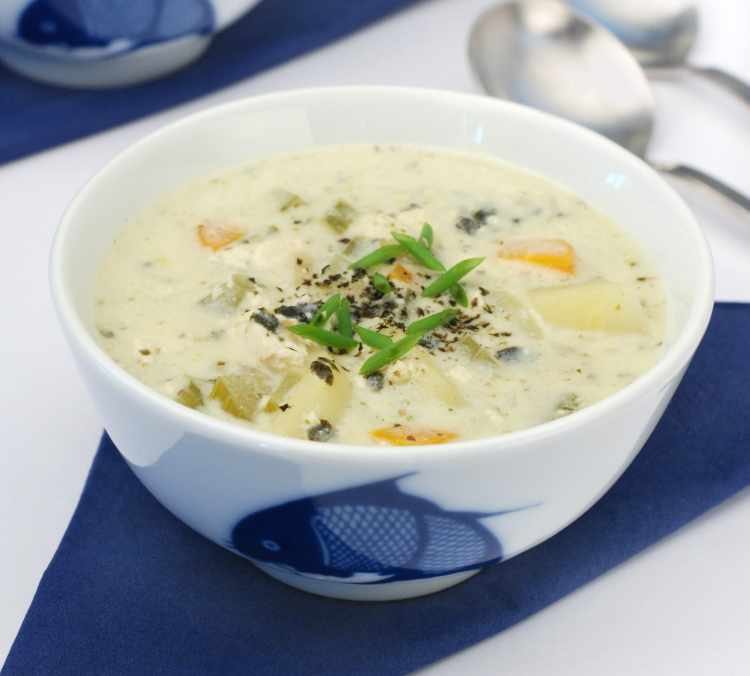 Ingredients:
1 tbsp oil
1 medium onion, chopped
2 carrots, chopped finely
3 celery stalks, diced
500ml vegan stock
450ml soya milk
225g tofu, crumbled
salt to taste
1/2 tsp black pepper
1/2 tsp celery seeds (use celery salt)
2 large potatoes, peeled and cubed
1 strip kombu
2-3 tbsp nori flakes, plus extra
small pinch allspice powder
method:
Heat the oil in a large cooking pot, then add the onion, carrots and celery and sauté for 15 minutes. Now add the stock, kombu and soya milk and stir.
Crumble in the tofu, add a little salt to taste (remember, the stock will be salty), then stir in the pepper, nori flakes, celery seeds and allspice and bring to the boil.
Add the cubed potatoes to the cooking pot, reduce the heat and simmer until the potatoes are soft.
At this point, you can discard the kombu if you like. For a stronger flavour, blend 2-3 ladles of the soup along with the kombu then return the mixture to pan and stir into rest of soup. Serve in bowls with a sprinkling of nori flakes to garnish.
Print Recipe
www.vegetarian.org.uk
Did you make this recipe?
Share your creations by tagging @livegreenandgood on Instagram with the hashtag #livegreenandgood