The Ultimate Homemade Falafel Pittas
Serves: 4
Know your nutrients
Dried chickpeas are key in this recipe. The night before cooking, just pour the dried chickpeas into a bowl, cover with warm water, and soak overnight.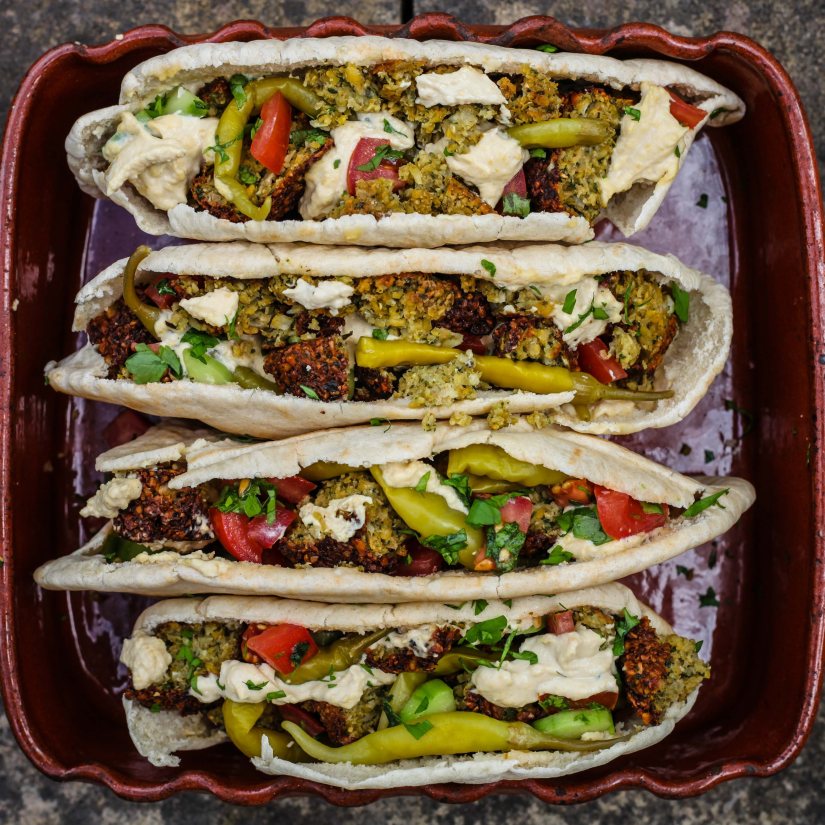 Ingredients:
For the falafel:
500g soaked chickpeas
bunch fresh parsley
bunch fresh coriander
2 tsp cumin
1 tsp cayenne pepper
1 onion, roughly chopped
3 garlic cloves, peeled
2 tbsp plain flour
For the salad:
4 tomatoes
1 cucumber
bunch of mint
1 lemon
To serve:
4 pittas
pot of hummus
pickled green chillies
method:
Preheat oven to 180°C/356°F/Gas 4.
Add the chickpeas, onion, garlic, a large handful of coriander, a large handful of parsley, flour, cumin and cayenne pepper to a blender and pulse the mixture, make sure it's not too fine. Season with salt and pepper. Check the falafel mixture can stick in a ball. If it is too loose, just add a bit more flour.
Once you are able to stick the mixture together, make little discs, around 4cm wide, and 3cm deep. Line up the discs on a sheet of baking paper, and put them in the fridge for 10 minutes to firm up. The mixture should make about 20 discs.
Finely chop 4 tomatoes and put into a bowl. Peel a cucumber and chop into chunks, and add this to the bowl. Add a handful of chopped mint, a handful of chopped parsley, the juice of a lemon, salt, pepper and olive oil. Mix everything together and set aside.
Line a baking tray with baking paper and place your falafel on the paper. Drizzle lightly with olive oil on one side, and then turn over the falafel and drizzle olive oil on the other side. Pat in the oil with your fingers, and then place in the oven for 30 minutes, flipping the falafel after 20 minutes.
Warm your pittas. Layer one side with a generous helping of hummus. Spoon in some of the salad. Then, take your baked or fried falafels and break them into the pittas – squeeze in four or five discs into each one. Lay some pickled green chillies on top, spoon over a bit more hummus and you're there. Enjoy!
Print Recipe
www.mobkitchen.co.uk/
Did you make this recipe?
Share your creations by tagging @livegreenandgood on Instagram with the hashtag #livegreenandgood