Sweet Potato Loaf
Serves: 6
Ready in: 60 mins +
Know your nutrients
We've got the perfect recipe for you: Quorn mince, made into a veggie meatloaf with sweet potatoes and fresh thyme. It's filling, 'meaty' and full of flavour. We guarantee this will go down a storm on your Christmas table!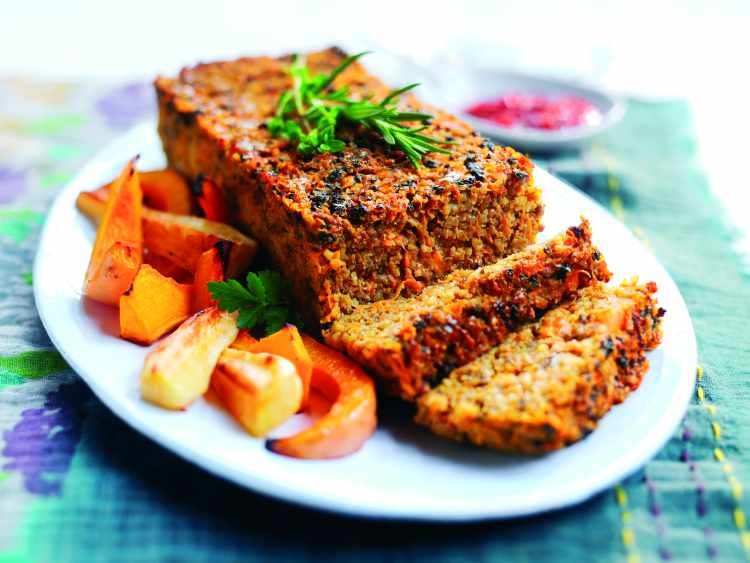 Ingredients:
125g Quorn mince
70g bulgar wheat
2 tbsp olive oil
100g carrot, grated
1 small onion, grated
100g sweet potato, grated
2 garlic cloves, finely chopped
70g pinhead oatmeal or rolled oats
1 1/2 tsp yeast extract
70ml vegetable stock made with 1 stock cube
1 large free-range egg, beaten
1 1/2 tsp fresh thyme, leaves only, chopped
1/2 tsp white pepper
1 sprig rosemary
method:
Preheat the oven to 200C/400F/Gas 6.
Cook the bulgar wheat according to the instructions on the back of the packet.
Heat the oil in a frying pan and fry the grated vegetables and garlic for three minutes.
Put the Quorn mince into a large mixing bowl. Add the fried vegetables, cooked bulgar wheat, oats, yeast extract, vegetable stock, egg, thyme and white pepper. Mix together well and season to taste.
Line a 900g loaf tin with greaseproof paper. Place the sprig of rosemary in the bottom of the tin and spoon the mixture over the top, pressing the ingredients down firmly. Cover with foil. Bake in a hot oven for 40 minutes. Recipe taken from The Quorn Kitchen.
Print Recipe
www.quorn.co.uk
Did you make this recipe?
Share your creations by tagging @livegreenandgood on Instagram with the hashtag #livegreenandgood