Sweet Potato and Tofu Pie
Serves: 4
Ready in: 30 to 60 mins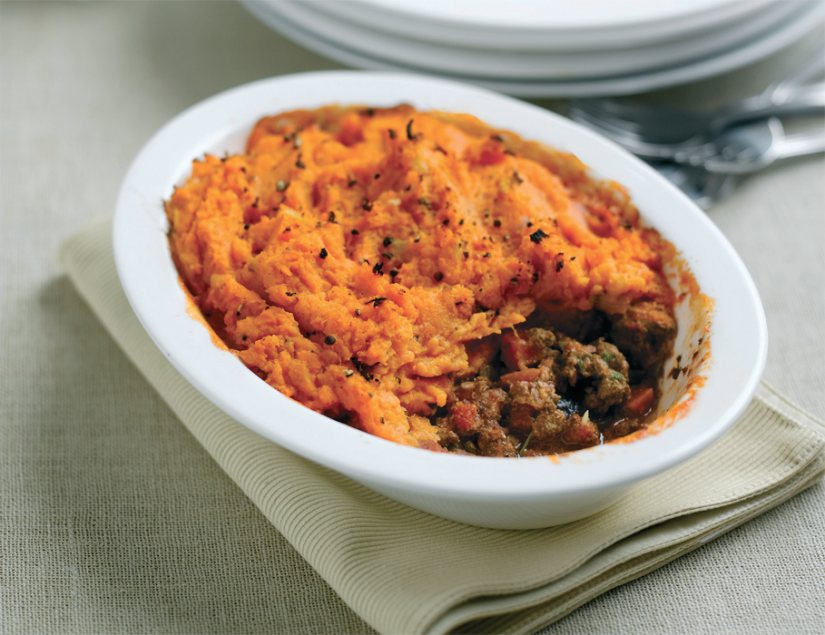 Ingredients:
1 tbsp mild olive oil
1 medium red onion, finely diced
2 medium carrots, finely diced
150ml tomato passata
180g packet Provamel Organic Tofu Mince
1 tbsp creamed horseradish
2 tbsp finely chopped parsley

[hd]for the topping[/hd]
4 medium sweet potatoes (800g), peeled
2.5cm piece stem ginger, peeled and very finely chopped
1 tbsp mild olive oil
1 garlic clove, crushed
ground black pepper
pinch of sea salt
pinch of nutmeg
method:
Peel and finely dice the onions and carrots and then microwave with the olive oil in a covered dish on high power for five minutes to soften. Stir in the remaining ingredients and place in a medium sized ovenproof dish.
Prepare the topping. Cut the sweet potato into even sized pieces and simmer until just tender. Drain thoroughly. Sauté the garlic and ginger in the olive oil for 2-3 minutes to soften without browning. Remove from the heat and add the drained, cooked sweet potato.
Mash until smooth and season to taste. Spoon the mash onto the filling and bake for 20 minutes at 220C/425F/Gas 7 until the mash begins to go a nice shade of golden brown. Serve with freshly steamed green beans, a mound of watercress and top with hot vegetarian gravy.
Print Recipe
www.provamel.co.uk
Did you make this recipe?
Share your creations by tagging @livegreenandgood on Instagram with the hashtag #livegreenandgood