Squash and black bean chilli
Serves: 4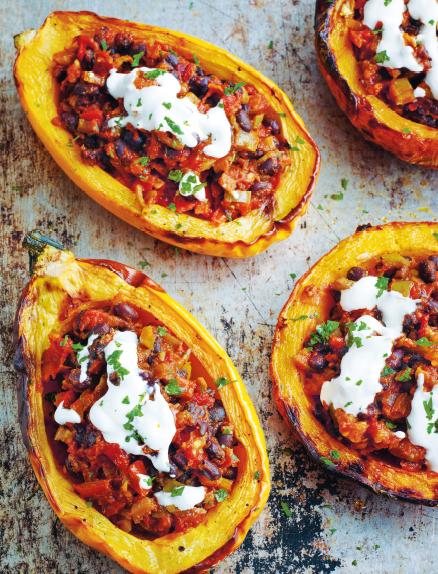 Ingredients:
1 medium squash
2 tbsp olive oil, plus extra for roasting
1 large onion, chopped
4 celery sticks, finely chopped
1 red pepper, deseeded and chopped
1 green pepper, deseeded and chopped
3 large garlic cloves, crushed
1-2 tsp crushed chipotle chillies
1 tsp dried marjoram or handful of fresh oregano
2 bay leaves
2 tsp ground cumin
1 x 400g can chopped tomatoes
2 x 400g cans black beans, rinsed and drained
Juice of 1 lime
Small bunch of coriander, finely chopped
Salt and black pepper
Grated cheese and/or soured cream, to serve (optional)
method:
Heat the oven to 180C/350F/ Gas 4. If stuffing a whole squash, cut it in half, scoop out the seeds and pulp, and stuff each half; or roast the squash in chunks if adding to the chilli. Heat the oil in a large heavy pan over a medium-high heat. Add the onion and celery. Reduce the heat to medium, and cook, stirring occasionally, for about 10 minutes until soft. Add the peppers and continue cooking for a further 10 minutes or so, stirring frequently.
Stir in the garlic, and cook for another minute. Add the chilli, 1-2 tsp of salt, 1 tsp of black pepper, the herbs and cumin. Give everything a good mix then add the tomatoes. Simmer, uncovered, for about 30 minutes.
Stir in the beans and continue to simmer for a further 10 minutes. Remove the bay leaves, stir in the lime juice and coriander and adjust the seasoning to taste. If using roast squash, add it now, heat through, and then serve. If stuffing a whole squash, fill each roasted squash half with the filling mixture. Top with grated cheese or soured cream (or both), if you like.
Print Recipe
www.riverford.co.uk/recipes
Did you make this recipe?
Share your creations by tagging @livegreenandgood on Instagram with the hashtag #livegreenandgood