Root Vegetable Tarte Tatin
Serves: 4
Cost Cutting Eco Friendly Freezes Well
This is the ultimate crowd-pleasing centrepiece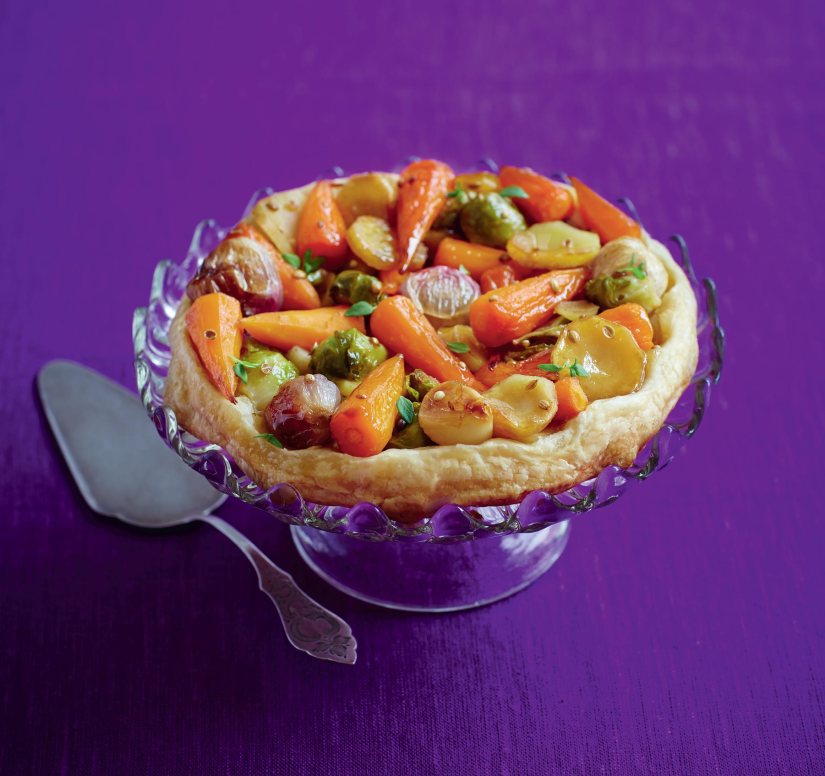 Ingredients:
3 tbsp olive oil
6 shallots, peeled
1 large parsnip, cut into 4mm slices
200g Chantenay carrots, trimmed
6 Brussels sprouts, halved
1 tsp coriander seeds, lightly crushed
2 tsp pomegranate molasses
2 tbsp demerara sugar
1 tsp finely grated lemon rind
1 sheet ready-rolled puff pastry
fresh thyme leaves, to garnish
method:
Set the oven to 200C/400F/Gas 6.
Place the oil in a 20cm round cast iron frying pan. Oven heat for five minutes.
Add the pomegranate molasses and the coriander to the hot oil then add the shallots, parsnip slices and carrots. Toss the veg to coat and season well.
Bake for 10 minutes then add the sprouts and toss. Cook for five minutes.
Meanwhile, place the sugar in a saucepan with 3 tbsp water. Heat until bubbling. Remove from heat and add the lemon rind.
Pour the syrup over the veg. Unroll the pastry and place over the pan. Fold any over-hanging pastry back over the pan to create a thicker layer. Press down and up to edges of pan gently. Prick several times and return to the oven for 25-30 minutes.
Invert onto a serving plate
Print Recipe
Did you make this recipe?
Share your creations by tagging @livegreenandgood on Instagram with the hashtag #livegreenandgood