Oumph! Kebab Spiced Salad with Baby Potatoes & Balsamic Aioli
Serves: 4
A unique blend of herbs and spices gives a plant-powered kick to the award-winning Oumph! Kebab Spiced strips. Fire up the barbecue and cook Oumph! with new potatoes and serve a balsamic aioli on the side – it's a fresh and spicy flavour bomb. Oumph! Kebab Spiced strips are available at Tesco, Sainsbury's, Asda, Morrisons, Iceland and Ocado. Recipe and photo by Romy London (@romylondonuk)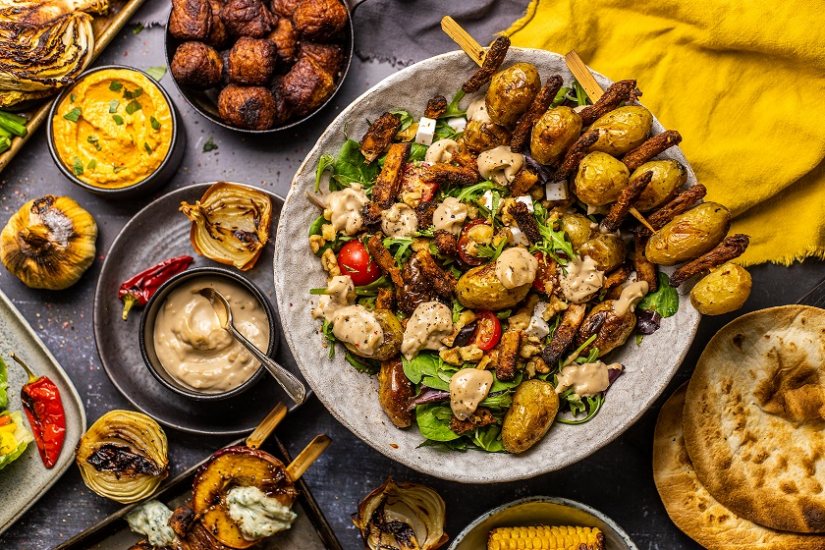 Ingredients:
450g baby potatoes
1 pack Oumph! Kebab Spiced (280g), defrosted for 30 minutes
2-3 tbsp vegetable oil, to brush
150g mixed salad leaves
100g vegan Feta-style cheese
a handful of fresh basil
150g cherry tomatoes, halved
For the balsamic aioli:
½ cup vegan mayo
2 garlic cloves, crushed
1-2 tsp balsamic glaze
¼ tsp salt
method:
Fire up your BBQ and wait for at least 30 minutes until your BBQ is hot.
Place the baby potatoes into boiling water and simmer for 10 minutes, then drain the water. Pierce the potatoes and Oumph! Kebab Spiced pieces onto skewers. If using wooden skewers, soak them in water for one hour prior to using them on the BBQ.
Brush the skewers with a little oil and place them directly onto the grill, flipping them after about 15 minutes or once the potatoes are starting to show griddle lines. Stay nearby to check the skewers regularly to ensure they don't burn.
In the meantime, prepare the salad and combine the mixed salad leaves, cubed vegan Feta, fresh basil leaves and halved cherry tomatoes.
To create the balsamic aioli, crush the garlic, place it onto a chopping board and sprinkle it with the salt. Using a large knife, scrape over the garlic diagonally to turn the garlic and salt into a paste, then combine the garlic paste with the vegan mayo and balsamic glaze. Enjoy!
Print Recipe
oumph.uk/
Did you make this recipe?
Share your creations by tagging @livegreenandgood on Instagram with the hashtag #livegreenandgood