Nuggets with Chilli Salsa and Spicy Sweet Potato Wedges
Serves: 2
Ready in: 30 to 60 mins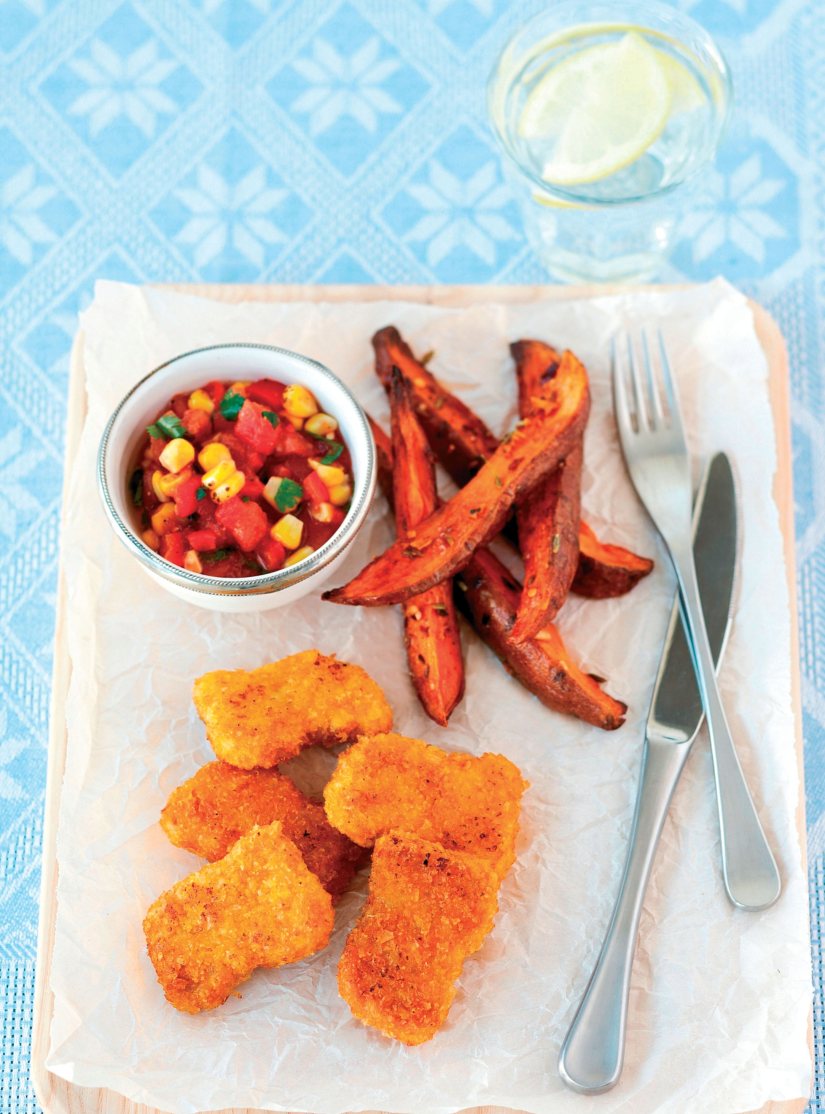 Ingredients:
8 Provamel nuggets (4 per person)

[hd]For the wedges[/hd]
2 medium sized sweet potatoes,
cut into wedges
1/2 tsp paprika
1 garlic clove
1/2 tsp cumin seeds
1/2 tsp fennel seeds
pinch dried chilli flakes
1/4 tsp powdered ginger

[hd]For the chilli and coriander salsa[/hd]
3 ripe tomatoes de-seeded and chopped
10g coriander leaves chopped
2 tsp good quality tomato ketchup
40g roasted red pepper, chopped
1/2 corn on the cob
dash of tabasco
1/2 red chilli, chopped
method:
Preheat the oven to 200C/400F/Gas 6. Combine all the spices together with 3 tbsp olive oil and coat the sweet potato wedges. Place in a tray and cook until golden brown, about 25 to 30 minutes.
Meanwhile, use a griddle pan to cook the corn, turning the cob until the kernels start to brown. When done, using a sharp knife, strip the cob of the kernels and place in a bowl with the rest of the salsa ingredients, and mix together.
About five mins before the wedges are ready, fry the nuggets in a frying pan over a moderate heat until cooked through. Serve all together.
Print Recipe
www.provamel.co.uk
Did you make this recipe?
Share your creations by tagging @livegreenandgood on Instagram with the hashtag #livegreenandgood