Mash Direct Smoky Vegetarian Bean Hotpot
Serves: 6
Ready in: 60 mins +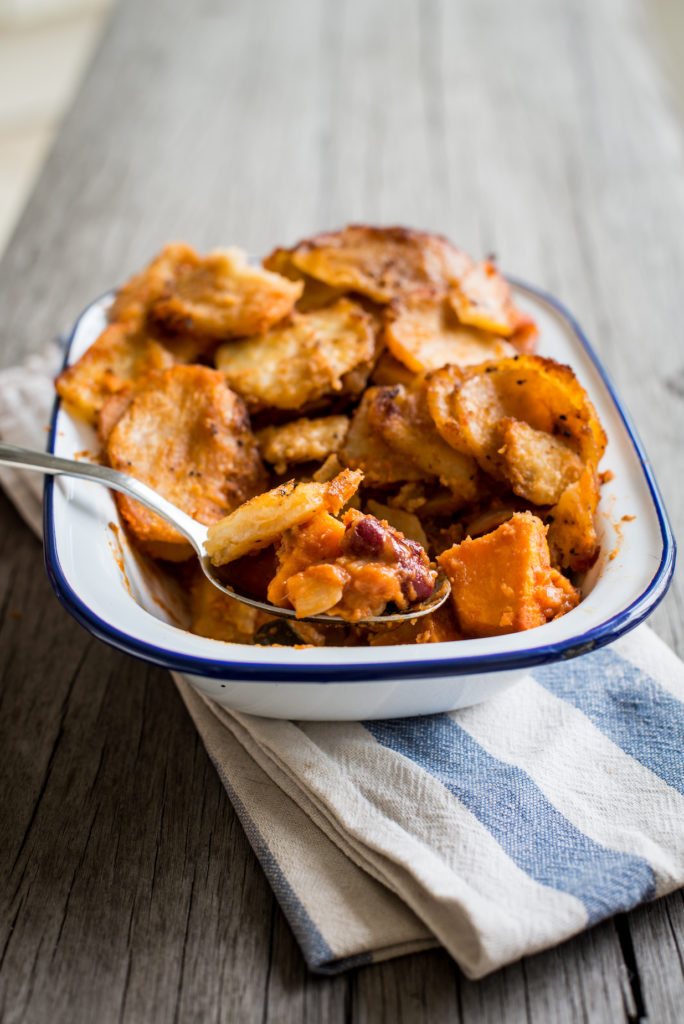 Ingredients:
2 packets of Mash Direct Southern Fried Potatoes
1 large sweet potato
1 large courgette
2 tbsp sunflower oil
2 medium onions, halved and sliced
2 garlic cloves, crushed
1 tsp ground cumin
1 tsp smoked paprika
400g tin chopped tomatoes
2 tbsp tomato purée
2 bay leaves
400g tin red kidney beans, drained and rinsed
400g tin chickpeas, drained and rinsed
salt and pepper, to taste
method:
Preheat the oven to 220C/425F/Gas 7. Firstly, prep all of the vegetables by peeling the sweet potato and cutting it into roughly 2.5cm chunks. Then, trim the courgette and cut into 1cm slices.
Heat the oil in a large non-stick saucepan or deep frying pan. Gently fry the onions for five minutes, stirring often, until softened and lightly browned. Add the garlic, cumin and paprika and cook whilst stirring for one minute.
Pour the tomatoes into the pan, refill the can with water and add this to the pan. Stir in the tomato purée, bay leaves and sweet potato. Bring the mixture to the boil, cover and cook for 15 minutes.
Stir in the pulses and courgette and bring the mixture back to a simmer for two minutes. Season to taste with salt and pepper.
Pour the mix into a large, oven-proof lasagne-style dish and top with layers of the Mash Direct Southern Fried Potatoes, ensuring that everything is completely covered. Bake in the preheated oven for about 40 minutes, until the potatoes are browned and the filling is bubbling.
Print Recipe
www.mashdirect.com/recipes/?c=vegetarian
Did you make this recipe?
Share your creations by tagging @livegreenandgood on Instagram with the hashtag #livegreenandgood