Maple Pecan Brussels Sprouts
Serves: 4
Ready in: 15 to 30 mins
They may not be everyone's favourite veg, but Brussels sprouts make a lovely addition to your spread during the holidays. This recipe combines butter, pecans and maple syrup for a sweeter spin on the seasonal veg.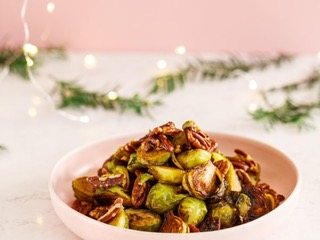 Ingredients:
2 dozen Brussels sprouts, trimmed and halved
2 tbsp olive oil
1 tbsp butter
255g pecan halves
2 tpsb amber, rich-tasting pure maple syrup
salt and pepper, to taste
method:
Add oil to a skillet on a medium-high heat. When the pan is hot, add the Brussels sprouts. Sauté for about 8-10 minutes, stirring fairly often, or until the Brussels sprouts are nicely browned and tender-crisp.
Reduce the heat to medium-low and stir in the butter and pecans. Cook for 4-5 mins.
Stir in the maple syrup and cook for about a minute more. Season with salt and pepper, to taste. Remove from the heat and serve immediately.
Print Recipe
www.maplefromcanada.co.uk/
Did you make this recipe?
Share your creations by tagging @livegreenandgood on Instagram with the hashtag #livegreenandgood