Lime Avocado Vegan Torte
Serves: 8
Cost Cutting Freezes Well Gluten Free‏ Vegan Friendly
Not only is this cheesecake gluten-free, vegan and raw, it's utterly delicious too!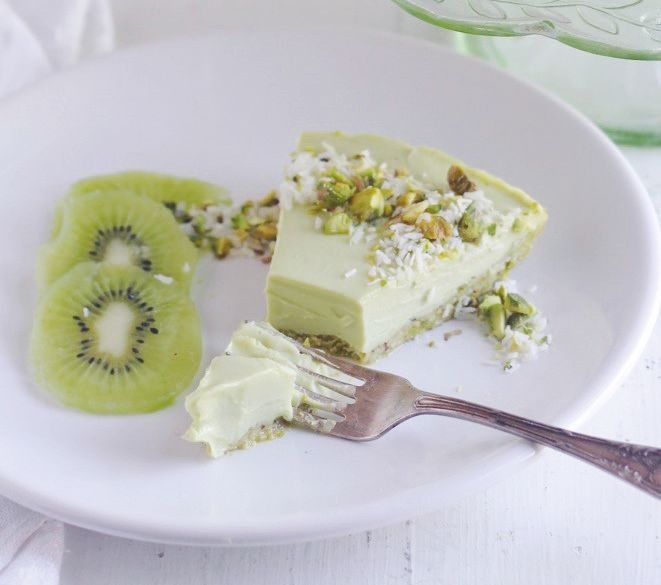 Ingredients:
FOR THE BASE
60g pistachios 90g ground almonds 3 tbsp coconut sugar 60g coconut oil
FOR THE TOPPING
100g coconut oil 2 tbsp maple syrup (or to taste) 75g brown sugar the juice of 2-3 limes (or to taste) 2 large ripe avocados (approx. 300g avocado flesh)
TO DECORATE
1 kiwi, sliced desiccated coconut pistachio nuts the zest of 1 lime
You'll also need:
1 x 20cm (8 in) cake tin, a food processor and a blender
method:
Line the cake tin with clingfilm.
Make the base. In a food processor, grind your pistachios to the consistency of ground almonds, then combine with the almonds in a bowl Add the coconut sugar and coconut oil and stir well. (Don't be tempted to do this in the food processor, the mixture will become too wet). Press the mixture evenly into the base of your prepared cake tin and freeze for 20-30 minutes to set.
Next, make your topping. In the bottom of your blender jug, place the coconut oil, syrup and lime juice. Drop in your avocado flesh. Blend on a high speed, stopping to scrape down the sides as necessary to achieve a smooth mixture. Adjust the lime and sweetener to taste, taking care not to let the mixture split when you add more lime juice: Add a little at a time and reblend each time.
Take the tin out of the freezer and pour the avocado mixture on top. Level with a spatula and return to the freezer to set for at least two hours.
Top with the decorations before serving.
Print Recipe
www.naturopathy-uk.com/
Did you make this recipe?
Share your creations by tagging @livegreenandgood on Instagram with the hashtag #livegreenandgood