Immune Boosting Turmeric & Autumn Squash Soup
Serves: 6
This is a fiery yet sweet soup and it is perfect for cold autumn days. Smooth and satisfying and of course packed with immune boosting spices to protect you from winter illness. Containing the Queen of The Spices – Turmeric – known for its powerful antioxidant qualities and topped with vegan cashew nut cream. Truly nourishing. Allow 50 mins to make.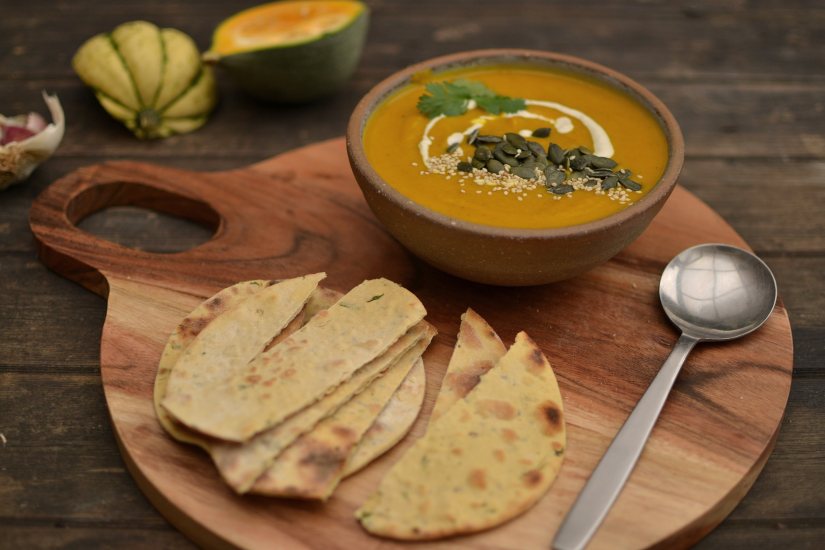 Ingredients:
The Soup:
1 tbsp coconut oil
1 large white onion, chopped
4 cloves garlic, chopped
200g carrots roughly chopped
200g sweet potato peeled and roughly chopped
500g butternut/ pumpkin/ seasonal squash peeled deseeded and roughly chopped.
2 tsp tumeric powder
2 tsp ginger powder
¼ tsp black pepper powder
½ tsp fine pink himalayan salt
1 tsp veg stock/ bouillon powder
1200ml boiling water.
The Cashew Cream:
100g pre-soaked cashews
50ml plant milk
1 tbsp. nutritional yeast
Pinch each of salt and pepper
Whole pumpkin/sesame seeds to serve.
method:
Soak the cashews a few hours before for cashew cream.
Pre-chop all the veg so that everything is ready.
Heat coconut oil in large saucepan on a low heat until melted then add the onion. Stir for 5 mins until starting to go transparent.
Add the garlic & salt and fry for another few mins.
Fill the kettle with water and set to boil.
Next add all the powdered spices and keep stirring as blending in with the onion and garlic.
Next add all the chopped veg.
Give it a quick stir to coat with all the spices then top up the pan with 1.2 litres of boiling water & veg stock.
Increase to a medium heat and cook, ideally with a lid on, for 25 mins.
In the meantime, to make the cashew cream, drain the cashews and place in a blender with the plant milk, salt, pepper and nutritional yeast, blend until smooth, adding a touch more milk if not desired consistency.
When the large chunks of veg are soft. Remove from the heat and leave to cool for 5 mins before blending (ideally with a hand blender as hot soup inside a smoothie type blender can be a disaster!)
Serve with the cashew cream drizzled on top or stirred in as desired.
Serve with bread or crackers of your choice
Print Recipe
www.indigo-herbs.co.uk/
Did you make this recipe?
Share your creations by tagging @livegreenandgood on Instagram with the hashtag #livegreenandgood